Three Russian NHL stars sit out with injuries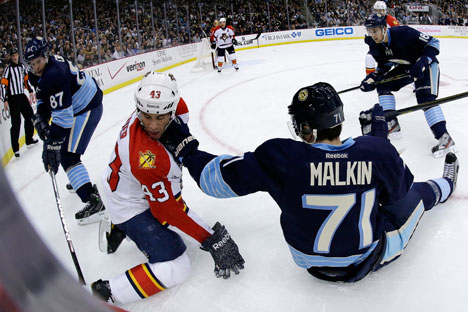 Pittsburgh Penguins center Evgeni Malkin (71) and Florida Panthers defenseman Mike Weaver (43) collide during the second period of an NHL hockey game in Pittsburgh Friday, Feb. 22, 2013. The Penguins won 3-1. Source: AP
The new NHL season is proving prone to injury for the league's Russian players.
Three Russian players are currently sitting out of NHL games, due to concussions — this includes Evgeni Malkin, who is the league's 2011-2012 MVP and Russia's biggest hope at Sochi 2014. Vladimir Tarasenko and Artem Anisimov have also been forced to leave the ice, following heavy hits sustained during games.
A couple of years ago, the NHL published the results of research that assessed the impact of player concussions. As it turned out, the scale of this problem is enormous, despite the introduction of stricter rules, severe penalties for offenders and new, constantly upgraded, protective gear. No matter what, the problem is there.
St. Louis Blues rookie Vladimir Tarasenko had been very impressive on the ice throughout his rookie year, before he was knocked down by Mark Olver in Denver. The Russian left the rink pressing a towel against his bloodied mouth.
The next day, the Detroit arena witnessed another injury when Artem Anisimov of the Columbus Blue Jackets was taken off the ice on a stretcher, following a hit. Like Tarasenko, Artem looks to be favored to play on Russia's Sochi 2014 Olympic hockey team.
The NHL's Russian contingent suffered its final and most painful loss just one day later, when Pittsburgh Penguins forward Evgeni Malkin was checked by Eric Gudbranson, during the last period of a game against the Florida Panthers.
Malkin hit the boards with his back and, from the way his head snapped at the moment of the collision, it was clear that Malkin would be coming away from the hit with a lot more than just bruises.
Pittsburgh coach Dan Bylsma told the media that Malkin had suffered a rather serious concussion, which had been accompanied by memory loss. It is still unclear as to when Malkin — the NHL's Most Valuable Player last season and perhaps the Russian Olympic team's biggest hope — will be back on the ice.
First published in Russian in Kommersant.
All rights reserved by Rossiyskaya Gazeta.