Once, they were heroes who brought gold medals home for their country.
Then, one or two positive tests for doping cheapened their victories, and, after vigorous investigations, they were forced to completely change their lives.
The people at the center of these high-profile doping scandals carry on with their lives, years after the drama.
Denis Yuskov, speed skater, two-time winner at the European Youth Olympic Festival 2007
In February 2008, at the age of 19 and regarded as one of the most promising speed skaters in the world, Yuskov was disqualified for four years for using marijuana. After this, Yuskov effectively stopped training. In the summer of 2011, an appeal against the 2008 decision was lodged and the Russian Skating Union lifted his disqualification.
In his first season after returning (2011/2012), Yuskov was one of the leaders on the Russian national team. In February 2012, Yuskov won the 1,500-meter race at the World Cup. Yuskov is now considered one of the main Russian hopes for Sochi 2014.
Olga Bogoslovskaya, runner, 1993 world champion in the 4x100-meter relay, 1992 Olympic silver medalist, 4x100-meter relay
In 1994, a doping test taken by Bogoslovskaya at the famous Cologne laboratory of Manfred Donike proved positive. The substance was obviously a steroid. Bogoslovskaya denies that she is guilty to this day: "There was no doping. It's impossible to understand how they could have found me guilty, and what I was guilty of."
After receiving a two-year disqualification and training for one more season, the athlete decided to end her career.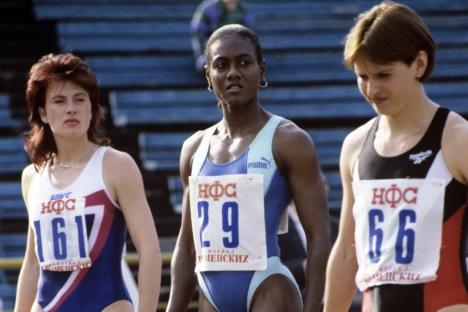 Runner Olga Bogoslovskaya (right) decided to end her career when she received a two-year disqualification. Source: RIA Novosti / Vladimir Rodionov
Bogoslovskaya is now a well-known TV commentator who specializes in track-and-field athletics, and her CV includes working as a special correspondent at seven Olympics. Bogoslovskaya says that, when she got onto TV, she pretty much walked in off the street.
"They gave me a chance. They said, 'OK, give it a try. You know what TV is?' and I said, 'No, I've no idea.' My first piece went out a week later. It's not only people who don't know me who don't believe it could have happened so easily, but even people who are close to me."
Dmitry Berestov, weightlifter, Athens 2004 Olympic champion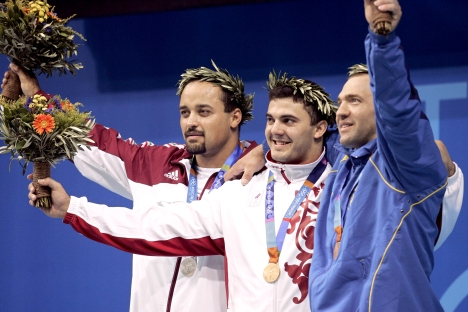 Russian weightlifter Denis Berestov, who became an Olympic champion in 2004 in Athens, has been working in Moscow as the director of a sport school for children since 2009. Source; AFP / Ramzi Haidar
Berestov was tested on April 5, 2006, and the test was checked by experts at the Cologne laboratory as part of the WADA out-of-competition doping controls. The substance discovered in the test was from the anabolic steroids group. In spring 2008, Berestov returned to the platform and even won the European championships for the first time in his career. However, he did not go to the Olympics in Beijing after he slipped a disc.
Since then, Berestov has made several unsuccessful attempts to get onto the national team, taken part in a few Russian domestic competitions, and been injured and come back; but this was a shadow of the real Berestov. Since 2009, the athlete has been working in Moscow as the director of a sports school for children.
Larisa Lazutina, skier, five-time Olympic champion (1992–1998), two-time overall winner of the World Cup (1990, 1998), 11-time world champion (1987–2001)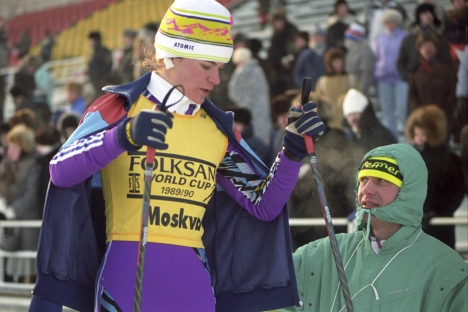 Right after the doping scandal, five-time Olympic champion Larisa Lazutina announced she was ending her sporting career and immediately switched to politics. Source: RIA Novosti / Sergei Guneev
After Lazutina won the 30-kilometer event at the 2002 Olympics in Salt Lake City, erythropoietin (EPO) was discovered in her system and she was stripped of her gold medal. Just two months later, the International Ski Federation announced that doping tests performed on Lazutina in December 2001 after the World Cup heats had also proved positive.
In view of the facts that had been discovered, the International Olympic Committee also stripped the Russian of the two silver medals she had won at the same Olympics.
Right after the doping scandal, Lazutina announced she was ending her sporting career and immediately switched to politics. She has been a deputy in the Moscow Region Duma since 2003, and she is now head of its education and culture committee. She is a graduate of the Russian Presidential Academy of Public Administration and has defended a thesis.
The article is abridged and first published in Russian in Moskovskiye Novosti.
All rights reserved by Rossiyskaya Gazeta.