Russian hockey player Bobrovsky ahead of Crosby as NHL star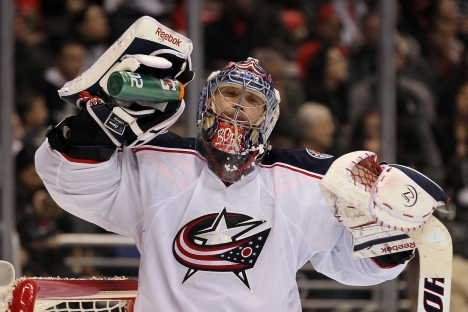 Columbus Blue Jackets goaltender Sergei Bobrovsky named the NHL's best player of the last week. Source: Getty Images
Columbus Blue Jackets goaltender Sergei Bobrovsky was named the NHL's best player of the last week. Alongside the first shutout of his NHL career, the Russian player posted four victories in a row, beating Sidney Crosby of Pittsburgh and Jeff Carter of Los Angeles.
Sergei Bobrovsky was the first Russian to appear on the list of the three best players of the week in the NHL, the official site of the League reports.
The goalie has benefited from the transition to Columbus from Philadelphia, where he competed with Ilya Bryzgalov; now he wrestles against Steve Mason for the number-one position. Overall, they have both had an equal number of matches — Bobrovsky has played only six matches more than Mason.
Bobrovsky led the last five games in a row, beginning on Sunday, Mar. 3, when he beat Colorado — the team of Russian goaltender Semyon Varlamov. Victories were won in all of those games, including a duel with Vancouver (the 2011 Stanley Cup finalist) and two games with Detroit.
Bobrovsky also played the first shutout of his NHL career in a game with the Red Wings, who were beaten 3-0. It was the only game last week in which the Blue Jackets managed to win within regulation play, and Bobrovsky stopped 30 shots in it.
The next day he helped his team beat Detroit again, even though he missed a shot by Pavel Datsyuk. It is symbolic that Sunday's match was the 100th in Bobrovsky's career.
He rescued the team in a game with Edmonton as well, stopping 34 shots there. However, the success of Bobrovsky can so far be considered local to the team, which is third from the bottom in the Western Conference — the result of the first two unsuccessful months of the championship.
The Russian goaltender has also managed to get ahead of Sidney Crosby. In four games, the Pittsburgh forward scored 11 points, increasing the gap in the top scorers' contest between him and Steven Stamkos of Tampa Bay. Los Angeles forward Jeff Carter, the current Stanley Cup holder, was the third star of the week.
First published in Russian in Gazeta.ru.
All rights reserved by Rossiyskaya Gazeta.