Russia to create post-Soviet champions league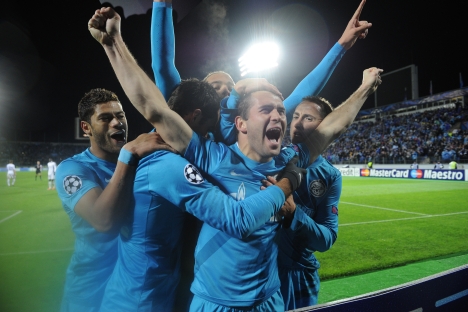 Zenit St Petersburg player Alexander Kerzhakov celebrates after scoring a goal in a UEFA Champions League match. Source: ITAR-TASS
A new league hopes to bring back Soviet-era glory.
According to Valery Gazzaev, the creation of a new football championship in the countries of the former Soviet space is just a formality.
"We are currently discussing the league format. Most likely, there will be two divisions, each of which will have eight or nine teams," said Gazzaev, the manager of FC Alania Vladikavkaz in Russia's North Caucasus, and the director of United Championship, the organisation tasked since November with formulating the plan for a Commonwealth of Independent States (CIS) league.
A championship of the best CIS clubs evokes memories of the Soviet-era Supreme League, which existed from 1936 to 1991. The Supreme League was considered one of the world's top competitions, with renowned clubs such as Dynamo Kiev, Spartak Moscow, Dinamo Minsk, Uzbek club Pakhtakor and Georgian club Dinamo Tbilisi all vying for the title.
The latest initiative has been met with enthusiasm. Ukrainian billionaire and owner of Shakhtar Donetsk, Rinat Akhmetov, has expressed his interest in the idea, as has the management of Belarusian club Bate Borisov.
Suleiman Kerimov, billionaire owner of Dagestan club Anzhi Makhachkala – home to superstar striker Samuel Eto'o – is a member of the organising committee.
FIFA president Sepp Blatter, however, does not sound like a man ready to open discussions on the matter.
"FIFA is not interested at all in this competition. Competitions between [clubs] take place within the framework and under the control of the national associations, within the borders of their country. The CIS championship is a wrong decision, and it can destroy the FIFA pyramid and cause enormous damage to the solidarity inside the family," Blatter said in January.
But Gazzaev remains optimistic. He says that the plan for a CIS championship does not conflict with any of the principles of FIFA and that the league could be up and running as soon as 2015.
All rights reserved by Rossiyskaya Gazeta.