Thousands expected at the World's Athletics Championships in Moscow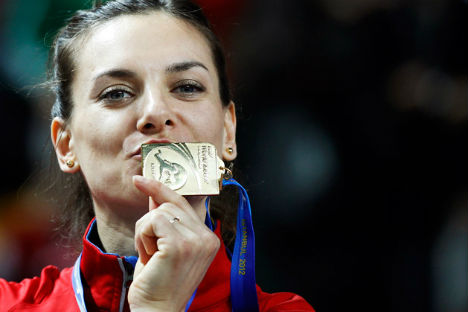 Russia pins hopes on pole-vaulterYelena Isinbayeva (pictured) at the International Association of Athletics Federations World Championships. Source: Reuters / Vostock Photo
Russian officials hope to attract 50,000 people to attend every competition session at the International Association of Athletics Federations (IAAF) World Championships, which will take place in Moscow on Aug. 10–18.
International Association of Athletics Federations (IAAF) Vice President Sergey Bubka believes that Yelena Isinbayeva has what it takes to challenge American pole-vaulter Jennifer Suhr for gold at the IAAF World Championships in Moscow. Russia's athletics representatives and officials are making it their priority to fill seats for the event.
Ticket sales started on March 1 for the International Association of Athletics Federations (IAAF) World Championships, which will take place in Moscow on Aug. 10–18.
Vice president of the IAAF, Sergey Bubka, paid a visit to the Russian capital to support the event. On March 6, the renowned sportsman addressed journalists, together with the All-Russia Athletics Federation general secretary, Mikhail Butov, and the Moscow Directorate for Sports and Spectator Events director, Alexander Polinsky.
"The World Championships are a major event that will draw together participants from over 200 countries," Bubka said. "Top international sport stars will compete here in Moscow. Everyone is excited to see how the likes of Usain Bolt, David Rudisha and Allyson Felix will perform. And let's not forget Team Russia, which has been performing incredibly as of late. I think it's going to be an entertaining and most interesting World Championships."
"It's very important for the stands to be full," said the IAAF vice president. "We hope it will be the case. The success of the World Championships depends on how many seats we fill. Some six billion are going to be watching on TV."
There are still around 400,000 tickets on sale, available for purchase online and at the Luzhniki Stadium ticket offices. According to Mikhail Butov, sales are going very well.
"We expect 50,000 people to attend every competition session. Overall, there will be 13 sessions over the course of nine days," Butov said. "We will do our best to fill all the stadium seats. This is our key priority."
Alexander Polinsky noted that the ticket prices would be very affordable.
"The cheapest tickets will cost 100 rubles," he revealed. The most expensive package will set spectators back 35,000 rubles ($1,136); it includes an all-inclusive pass for the entire nine days of the competitions.
The European Athletics Indoors Championships came to a close on March 3. The Russian team topped the medal table, winning 14 medals in all — including four gold, seven silver and three bronze.
"It was one of the most important stages in our preparations for the World Championships," Butov said. "There was a lot of nail-biting going on. At times, we had to fight for justice; some decisions made by the judges were quite controversial."
During the U.S. indoor championships, Jennifer Suhr beat Yelena Isinbayeva's pole-vault record with a jump of 5.02 meters (16.4 feet).
"Given Suhr's impressive shape, does Isinbayeva have any chances of winning the gold at the World Championships?" a Gazeta.ru journalist asked Bubka, who set 35 world pole vaulting records himself during his career.
"I think Yelena poses a serious challenge for Suhr," Bubka said in response. "She has a great deal of potential. And we all know that it is competition that motivates athletes and drives them to perform at their very best. I also think the home crowd should help Yelena do well and end her career on a high note. I wish her the very best of luck."
First published in Russian in Gazeta.ru.
All rights reserved by Rossiyskaya Gazeta.