Russia heads to England for Davis Cup match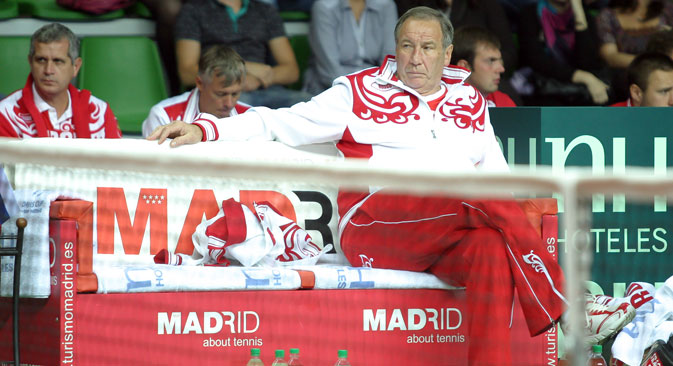 With honoured coach of Russia Shamil Tarpischev Russian tennis-players became twice semi-finalists of Davis Cup (1974, 1976). Source: ITAR-TASS
Coventry is set for the Davis Cup men's tennis match between Great Britain and Russia on April 5–7. Dmitry Tursunov, Igor Kunitsyn, Evgeny Donskoy and Victor Baluda have been selected to represent Russia in the team competition. Rossiyskaya Gazeta interviewed coach Shamil Tarpischev the day before the team departed for England.
Rossiyskaya Gaztea: Mr. Tarpischev, you planned to take two youngsters along with you, to complement the more experienced Tursunov and Kunitsyn – and you've done exactly that with Donskoy and Baluda.
Shamil Tarpischev: Yes, I tried to follow the principle of passing down the experience between generations and trying out different combinations for the future. But things didn't turn out exactly as I'd hoped, because some players have already committed to various singles competitions.
We asked Mikhail Youzhny and Nikolay Davydenko to play, but they couldn't do it. They don't want to be distracted by team tournaments. Plus, Davydenko is experiencing some problems with his toe. Andrey Kuznetsov dropped out due to a groin injury and is currently receiving treatment in Moscow. Had everyone joined the team, it would be stronger now, or course.
RG: Why did you ask Victor Baluda to debut for the team, given that he only stopped playing at the junior level recently and is ranked 425th in the world?
S.T.: Actually, he's our third-best young player, after Kuznetsov and Donskoy. You know that Victor and Mikhail Biryukov won the doubles silver medal at the 2010 Youth Olympics in Singapore. Baluda is a gifted young man, but you have to keep an eye on him. And there's certainly no doubting Victor's ability, but he can often be distracted by the glitz and glamour. He's a typical youngster in this respect.
RG: Any problems with Tursunov?
S.T.: Yes.
RG: Because he's getting married soon?
S.T.: That's got nothing to do with it! The problem is he had to revise his entire schedule to make it to the Cup match. Tursunov is coming to London all the way from Mexico, as he only agreed to play when we assured him that we'd get him out of the three Mexican challenger tournaments he had signed up for.
RG: And then you turned to Igor Kunitsyn…
S.T.: Kunitsyn would've helped the national team anyway. Besides, Igor is retiring at the end of the year. So, we need to get him involved more in coaching.
RG: Have you already decided who will play in the singles and the doubles?
S.T.: Tursunov and Donskoy will play on the first day, I think, and Kunitsyn and Baluda will pair up for the doubles. But we shall wait and see if anything changes closer to the first day of the match.
First published in Russian in Rossiyskaya Gazeta.
All rights reserved by Rossiyskaya Gazeta.