Russian curler weighs in on team chances at Sochi 2014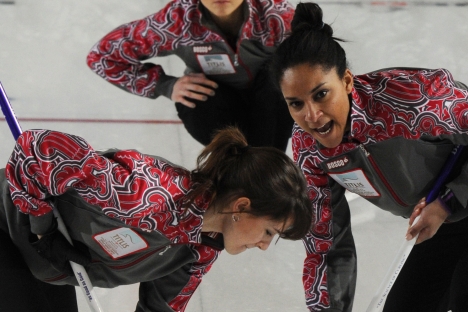 Russian curler with Nigerian roots Nkeiruka Esekh joined the Russian national team in the early 2000s and has managed to become European champion and a three-time Olympian. She summed up the season and told about the chances for the Russian women's team at the Sochi Olympics.
Nkeiruka Esekh: "We want to do the best we can, and we will do everything to achieve it". Alexey Danitchev / RIA Novosti
Her teammates simply call her Kira, but, translated from one of the Nigerian languages, her name means "hope" — and that is precisely what Nkeiruka Esekh is for Russian curling. Nkeiruka was born in Moscow in 1983 to a Russian mother and a Nigerian father.
She joined the Russian national team in the early 2000s and, since then, has managed to become European champion and a three-time Olympian. Will Sochi bring gold for the Russian sportswoman with African roots?
"The season is certainly going well — for all the national teams," Kira says on a positive note.
"First place at the European Championship was our second success since 2006. And this year we confirmed our status, despite lagging in fourth for a long time. Finally, we managed to take first place! Yes, we came sixth in the World Championship, but could and should have been in the top four. It's all real — we're preparing for the Olympics and ironing out any weaknesses. And hopefully we'll get a result."
Gazeta.ru: Do you know why it didn't happen for you at the World Championship? Why didn't you medal?
Nkeiruka Esekh: I'm not certain what happened. We have a large enough coaching staff to address such issues. After the first five games, we were challenging for a place in the top four. But things went wrong in the final four games. Maybe one of the reasons was plain bad luck.
Gazeta.ru: Last year you changed your coach: Tomas Lips replaced Olga Andrianova. What do you like about working under this Swiss specialist?
N.E.: In terms of technical training, it doesn't feel any different. We train the same — twice a day, the same physical training in summer, maybe a little more during the season to keep in condition throughout the competition period. And maybe the psychological atmosphere is slightly different. It's hard to pinpoint exactly. The main thing is the result.
Gazeta.ru: In the Russian Championship, the women's national squad was divided into two teams — Moscow-1 and Moscow-2. What is it like to play against each other?
N.E.: Our coach was very keen for us to play together in the Russian Championship, so as to create psychological harmony in the team. But we said: "No, we want to play separately." We alternate on the podium every year. One year it's us, the next it's them.
Gazeta.ru:Has the team's training schedule changed in view of the Olympics?
N.E.: I think the schedule will change. I don't think we'll peak at the Euros. It's important, of course, to play well at the Olympics. And to peak several times in one season is a tall order. We definitely need some competition time. You can't just pick up and go to the Olympics without playing for real.
The coach analyzed the entire season and consulted with us. He's got all the results, all the stats. I think that the team will peak right in time for the Olympics. Everything will go toward that aim.
Gazeta.ru: Is the team feeling the heat more because it's on home turf?
N.E.: (Smiles) Of course, we are already beginning to sense the occasion. No one is demanding victory at all costs. But the pressure is mounting. There'll be a few nerves, I can tell you. Plus, we'll be working with a psychologist. We feel the responsibility.
After all, there'll be many spectators and TV viewers. We want to do the best we can, and [we] will do everything to achieve it. There's a feeling that success can be ours. We've beaten all the teams out there, and [we] know for sure that we can win any medal.
First published in Russian in Gazeta.ru
All rights reserved by Rossiyskaya Gazeta.