Russia returns to lead in European gymnastics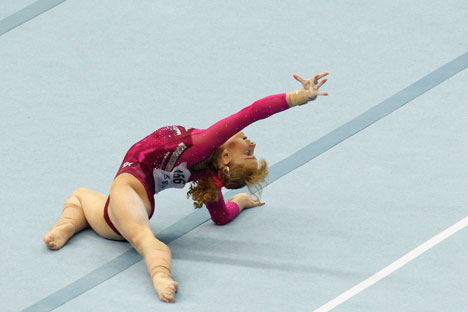 Russia's Anastasia Grishina competes during the women's apparatus finals on the floor at the European Men's and Women's Artistic Gymnastic Individual Championships in Moscow April 21, 2013. Source: Reuters
Russian gymnasts won six gold and four bronze medals at the European Artistic Gymnastics Championships in Moscow, dominating the medal table and leaving teams Great Britain (2 gold, 2 silver, 1 bronze), Ukraine (2-0-1), Romania (1-5-1), Switzerland (1-1-0) and France (1-0-1) in their wake.
It was the first tournament since the London Olympics. Despite the fact that a number of European gymnastics stars were missing – having either retired or taken a break – the competition was filled with excitement and closely fought battles. Yet it was the Russians who walked away with the all-around titles, with Aliya Mustafina beating Romanian Larisa Iordache, and David Belyavsky edging out Max Whitlock of team Great Britain.
It was a special tournament for Mustafina. Already a world all-around champion, she suffered a bad knee injury when landing a vault at the European Championships in Berlin two years ago. She missed some of the events that year, and there were concerns that she might miss the Olympics. However, Mustafina won more gymnastics medals than anyone else in London in 2012, going home with a gold, a silver and two bronze medals.
In Moscow, Mustafina told journalists that she was no longer thinking about her knee injury. "The injury doesn't concern me, and I'm not afraid of the vault," Aliya said. "All of the apparatuses were very hard. There are some things to be happy about, but there are other things I didn't like. I made a lot of mistakes in the balance beam qualifiers. But the coaches said that those results wouldn't count in the finals, and I did my best."
After winning the all-around title, Mustafina won the uneven bars – her favorite discipline and one that brought her Olympic gold in London. She unexpectedly withdrew from the floor, though. The coaches explained that she had some minor problems with her back and decided that her knee needed some rest. Could this be something to worry about prior to the world championships? Maybe – especially considering the fact that Viktoria Komova, who won silver in the individual all-around finals at the London Summer Games, is not ready yet.
RBTH talked to two-time Olympic champion and three-time all-around world champion Svetlana Khorkina about what kind of problems lay in store for Russian artistic gymnastics. Khorkina was critical of the team's success in Moscow and said that the European Championships showed its weaknesses.
"I expected Russia to win the female team all-around event. However, with these routines and these shapes, the girls are not ready for the World Championships," said Khorkina. "They have to train more. Russia will have the same team for the Universiade and the World Championships, which means that the burden will double. And all because the situation we feared most has now become a reality – we don't have any younger athletes to fall back on. Any kind of injury or unforeseen situation, and we won't have a full team to compete. We need to address this problem fast – we don't have much time before the 2016 Olympics."
All rights reserved by Rossiyskaya Gazeta.