Russian hockey stars to make NHL draft history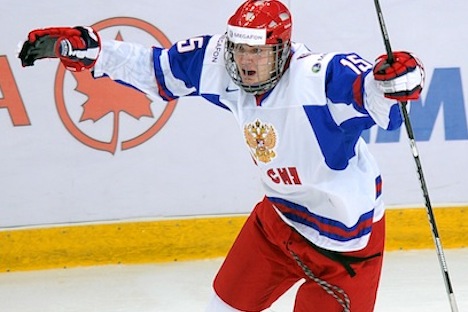 Russia's Valeri Nichushkin celebrates his over time winner in the bronze medal match against Canada at the World Junior Ice Hockey championship in Ufa, Russia, Saturday, Jan. 5, 2013. Source: AP
The Russian forward Valery Nichushkin of Traktor Chelyabinsk was rated second among young European hockey players in the NHL draft. NHL experts expect him to be among the top picks in the final draft, along with the Russian-born forward Alexander Barkov Jr.
One of the heroes of the recent Gagarin Cup, Traktor forward Valery Nichushkin has not been playing his best at the Under-18 World Championship that is currently taking place in Sochi. He failed to score in three matches and won only two points.
However, good news from across the ocean may wake him up. NHL's scouting service put Nichushkin in second place in the final rating of European players, after forward Alexander Barkov Jr. of the Finnish team Tappara — a Russian-born Finn and son of a famous Soviet hockey player.
The top five also include Elias Lindholm (Brynäs) and Alexander Wennberg (Djurgårdens) of Sweden, and Rasmus Ristolainen (TPS) of Finland.
All five recently played for their countries at the 2013 World Junior Championship in Ufa, Russia. Barkov, in spite of his team's failure, earned seven points (3+4) in six matches, and Nichushkin hammered a "bronze" puck in Canada's goal.
Goran Stubb, NHL Director of European Scouting, considers Nichushkin a draft favorite, and compares his style to that of Evgeni Malkin. "He's a big, strong player with a wide range of skills," NHL's website quotes Stubb as saying.
"He can score a lot of goals, dominate the game, and he is a talented forward. On top of that, he has lots of experience for someone of his age. He is surely the best Russian in the draft this year."
Experts consider both Nichushkin and Barkov among the favorites to make the top five in the NHL draft, although the hot favorite is U.S. defender Stephen Johns — the current junior world champion.
If a minor miracle happens in New Jersey on June 30, and the Traktor and Tappara forwards go off the hammer, then history would be made. The last time two Europeans topped the draft was nine years ago. They were Alexander Ovechkin and Evgeni Malkin.
First published in Russian in Gazeta.ru.
All rights reserved by Rossiyskaya Gazeta.