Klitschko-Povetkin fight receives $23 million bid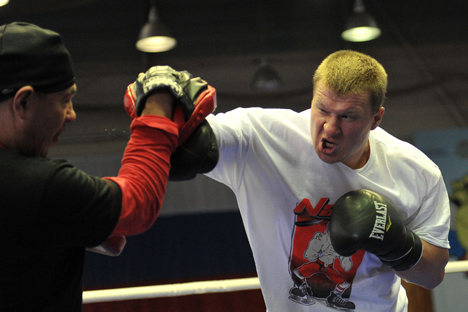 Alexander Povetkin is the two-time European champion and the regular WBA world champion. Source: Vladimir Pesnya / RIA Novosti
Vladimir Hrunov's boxing promotion company won the bid for the Klitschko-Povetkin fight with a bid of $23 million. The fight is scheduled to take place in Moscow on August 31.
The rights to organize and promote the Klitschko-Povetkin fight were awarded, after bids were made at a ceremony at WBA headquarters in Panama City.
Povetkin is the World Boxing Association (WBA) heavyweight champion, whereas Klitschko is the WBA heavyweight super champion, because he is the International Boxing Federation (IBF) and World Boxing Organization (WBO) heavyweight champion as well.
Hrunov's company, which promotes Alexander Povetkin, won the purse bid, offering about $23 million – far more than Klitschko's K2 Promotions, the WBA said on its website. The money was provided by Russian businessman, Andrey Ryabinsky, owner of MITs Group.
Ryabinsky is also involved in the organization of the fight between Russian Denis Lebedev and Panamanian Guillermo Jones, scheduled for May 17. The Klitschko–Povetkin fight will take place on August 31 in Moscow. Berlin and Las Vegas are the two reserve venues.
"This is a normal amount, because it is one of the most highly anticipated fights," Vladimir Hrunov told RIA Novosti.
"We thought that $7 million was a good bid, but $23 million is some kind of a record," said K2 managing director, Tom Loeffler. Sauerland Event sports director, Hagen Doering, said he was impressed while Wladimir Klitschko's manager, Bernd Bönte, said the amount looked absurd.
Ryabinsky said that making a profit wasn't the main thing he was thinking about when he made the bid. According to him, investments in Russian professional boxing "are a long-term project, which has strategic objectives, the main one being to upgrade it to international standards."
The fight promises to bring Russian professional boxing closer to this goal. "It will be a legendary fight. It has been debated for quite a long time which of the new generation heavyweight champions will challenge the unbeatable Klitschko. It has been known for some time now that Alexander Povetkin is the most worthy and I'm certain he will be in the best shape of his life for the fight. This fight will make boxing history," Ryabinsky said.
Klitschko tops all of the heavyweight champion rankings, and Povetkin has won all of 25 professional fights. More than 150 countries could be scrambling to buy broadcasting rights to one of the most highly anticipated boxing events.
The prize pool provided by Ryabinsky will also make this fight one of the most expensive in history. In February, WBA split the purse between the two champions. Klitschko will receive a share of 75 percent, or $17.5 million, compared to Povetkin's $5.7 million.
All rights reserved by Rossiyskaya Gazeta.