Team Katusha leader ends professional career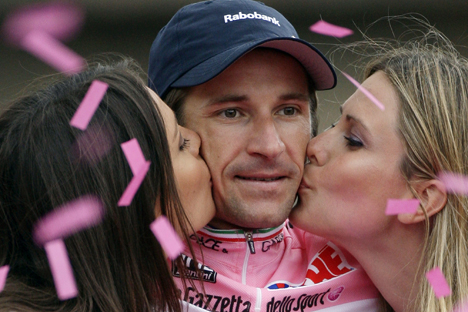 Denis Menchov: "Winning the Giro d'Italia is definitely my most outstanding achievement". Source: Reuters
Russia's most successful bicycle racer, Denis Menchov, has announced his retirement. Menchov missed Giro d'Italia this year due to his knee injury and then decided to retire from professional cycling.
Denis Menchov, Russia's most successful bicycle racer, has announced his retirement from professional cycling. Menchov, who was riding for Team Katusha, had to sit out the spring season due to a knee injury and later decided to retire from the sport.
Asked about his future plans, Menchov told R-Sport that he hoped to "one day sit in the July sun with a bottle of beer and root for Team Katusha at some stage in the Pyrenees [during the Tour de France]."
Menchov turned pro in 2000, when he signed with Spain's Banesto team. The young talent from the central Russian town of Oryol adapted fairly quickly to the new culture and language.
"I spoke French during the first couple of months with Banesto," Menchov said in his interview with R-Sport.
"I was a straight-A student when it came to French at school, and it helped a lot when we raced in France and Francophone Belgium. Then I bought some Spanish textbooks. Believe me, when you are forced to speak a foreign language, you just get on with it and do your very best. I came there in early February and I was fluent by May. There was no Internet then, only a phrasebook, two textbooks and a dictionary. At some point, I understood that I didn't need the textbook any longer and that I could speak."
Menchov first attracted major attention when he won the Tour de l'Avenir for semi-professionals in 2001. But it was in 2003 that Menchov really made his mark, finishing 11th in the Tour de France.
Menchov moved to the Dutch team Rabobank in 2004. The move accelerated his development as a cyclist. "I liked Rabobank as a project, and financially their proposal looked much better than the offers I was getting from other teams," Menchov said.
"Compared with Banesto, the difference was great. I guess the Dutch are closer to me in terms of mentality. They make everything clear and unambiguous – that's what I like."
The Dutch media dubbed Menchov "The Silent Storm" and "The Silent Assassin" for his persistence and harsh appearance. Menchov brushed off his nicknames: "'The Silent Storm," Really? I just don't like talking after a race."
During his years with Rabobank, Menchov won the Vuelta a Espana in 2005 and 2007, and the Giro d'Italia in 2009.
Menchov considers the Giro victory that the pinnacle of his career.
"Winning the Giro d'Italia is definitely my most outstanding achievement. It was a very emotional day, my victory day, following a month of crazy strenuous work. It was a desperate struggle, and I was overwhelmed at the finish… I missed the Giro this year because of a knee injury. It was supposed to be my main race this season, and that's when I knew that it was time to retire."
Menchov returned to Russia to join Team Katusha in 2012. Last year, he hoped to move up the results table in the Tour de France, but finished 15th overall. He also won one stage of the Vuelta. Another highlight of his 2012 year was riding in the Summer Olympic Games in London, representing the Russian National Team both in the Olympic road race and individual time trial.
Based on materials from R-Sport and Kommersant.
All rights reserved by Rossiyskaya Gazeta.