Chechen president fires local soccer coach for disrespecting traditions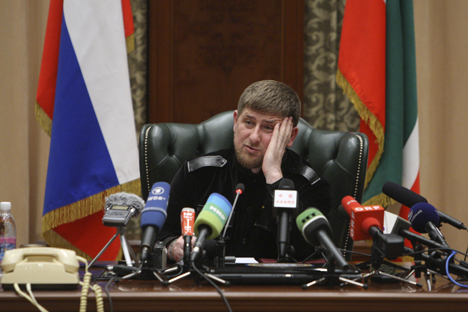 Ramzan Kadyrov has removed many coaches, and none have managed to stay at the helm long enough. Source: Reuters
Ramzan Kadyrov, president of the Chechen Republic and FC Terek Grozny, has once again fired the head coach, accusing him of disrespecting local traditions.
The 2012–2013 Russian Premier League ended during the last weekend in May, but tensions still remain. This time, it was Grozny-based Terek, led by Honorary President Ramzan Kadyrov, which caused the stir.
The president of the Chechen Republic spoke to Russian journalists about corrupt practices in Russian soccer.
"The referee tells me before the game: 'You pay and everything will be fine.' I tell him: 'I won't pay you.' So he was biased in favor of our opponents — everyone knows this," Kadyrov said.
The Russian Football Union asked Kadyrov to elaborate and give the name of the referee. The soccer community, however, already knows to whom the Chechen president was referring.
Mikhail Vilkov, a referee from Nizhny Novgorod, became a YouTube sensation when he issued a red card to Terek's captain, Rizvan Utsiev, and was immediately accused of corruption over the Akhmat-Arena public address system.
Terek was penalized for their honorary president's outburst and had to play their next home game at a neutral venue; even so, the executive committee of the Russian Football Union later awarded Akhmat-Arena the right to host the Russian Cup final.
Terek will not be there to fight for the trophy: Its season ended in the prestigious quarterfinals round.
The Chechen club finished eighth in the Russian Premier League — a new all-time best for Terek. Yet even this success was not enough for Russian coach Stanislav Cherchesov to remain Terek's head coach.
The former international goalkeeper for the Soviet Union and Russia was considered the main reason for Terek's impressive progress. Many soccer experts called 49-year-old Cherchesov the coach of the year.
Asked why he stepped down, the former goalkeeper said Terek's targets were constantly being changed throughout the season. The club was making good progress, and Ramzan Kadyrov thought Terek would make it into the top six clubs in order to participate in European cups.
In the end, Kadyrov accused Cherchesov of having no trust in Chechen soccer players and disrespecting local traditions: Kadyrov claims the coach did not shake hands with the Chechen player Tagilov.
The cranky Terek president has removed many coaches, and none have managed to stay at the helm long enough.
Spaniard Víctor Muñoz worked as FC Terek Grozny head coach for only a month when Kadyrov dismissed him for "not wanting to do his coaching work but wishing to run the entire club."
Legendary Dutch player and manager, Ruud Gullit, worked in Grozny only a bit longer. Ramzan Kadyrov criticized Gullit for his attitude toward his duties: He believed the Dutchman thought more about bars and discos than about his job.
It was said that Gullit received such a generous compensation penalty for having his two-year contract terminated that he has not yet started looking for a new club to manage.
When Gullit left the club, Terek was on the verge of being kicked out of the Premier League; yet Cherchesov, who took over from the Dutch legend, managed not only to keep the club in the Premier League but also make considerable progress.
Olympic champion Sergei Gorlukovich, a former defender for Spartak and Russia, believes that constant changes of head coaches can never turn out well.
"You must trust a coach, otherwise he won't produce a positive result," Gorlukovich says.
"Sir Alex Ferguson didn't show brilliant results with Manchester United during his first seasons; nor did Arsène Wenger with Arsenal. They had no trophies for years but gradually turned their teams into superclubs. Cherchesov had enough potential to turn Terek into a trophy-winning club, but the administration made its choice. We'll see where Terek finishes next season."
All rights reserved by Rossiyskaya Gazeta.