Wrestling regains its lost position as a key Olympic sport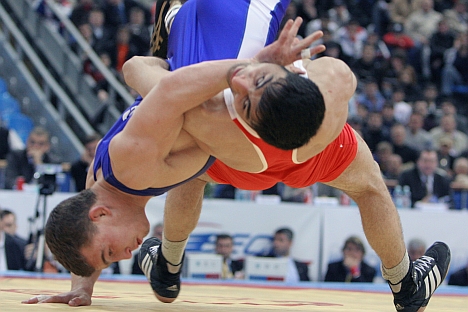 It remains to be seen whether wrestling will be included in the list of the Olympic sports. Source: Kommersant
Wrestling are expected to be included in the list of contenders for the 2020 Olympics.
Wrestling, which lost its status as a key Olympic sport following a shocking decision in February, has made an important move toward regaining its former position. Last week the International Olympic Committee (IOC) Executive Board voted to include wrestling on the list of contenders for the 2020 Olympics, alongside with baseball/softball and squash. The final decision will be made at an IOC session in September.
The Executive Board held a meeting in St. Petersburg, Russia, where it presented a shortlist of candidates for inclusion in the 2020 Olympic Games program. As many as seven sports vied for Olympic recognition — namely, wrestling, baseball/softball, roller skating, sport climbing, wakeboarding, wushu and karate — whereas only three of them (wrestling, baseball/softball and squash) made it to the final round.
Wrestling has been an integral part of the Games since ancient times. It sensationally lost its Olympic immunity in February 2013, when the IOC Executive Board ruled that, of all Olympic sports, wrestling was least compliant with the 30-plus requirements outlined in a London Olympics assessment performed by an ad hoc commission.
Consequently, the International Federation of Associated Wresting Styles (FILA) was forced to brainstorm possible solutions for restoring its Olympic standing. As a result, the organization's head, Rafaël Martinetti, resigned amidst accusations of being the cause of the current situation. He was replaced in his post by Nenad Lalovic.
Apart from this, the FILA congress, which took place in Moscow two weeks ago, adopted a number of urgent changes to the wrestling rules, as their complexity had raised many questions in the past.
Mention should be made of the efforts undertaken by sports authorities in those countries where wrestling is most popular and traditionally garners a plethora of Olympic medals. At the last six Olympic Games in which Russia participated independently of other former Soviet republics, the country's wrestlers won 51 medals, including 25 golds. Turkey, Japan and the United States also have strong wrestling teams.
President of Russia's Olympic Committee, Alexander Zhukov, warned that, even though wrestling was able to reserve a spot on the shortlist after the first round of voting, there is still a long way to go before the goal is achieved.
Everyone's eyes are now set on the IOC session to be held in Buenos Aires in September, during which the 2020 Olympic capital will be chosen from among Tokyo, Istanbul and Madrid; the three shortlisted sports will also be narrowed down to one.
Announcing the successor to the current IOC president, Jacques Rogge, is another item on the agenda.
Predicting the outcome of the vote by more than 100 IOC members is a challenging task. Wrestling seems to be the frontrunner, given its age-old history, wide geographical presence (the London Olympics brought together wrestlers from 29 countries) and the fact that it demonstrated a readiness for reform. Yet the IOC has repeatedly underscored its willingness to introduce a new sport at the 2020 Olympics, and squash, for example, has never been an Olympic sport.
As for baseball/softball, International Softball Federation President Don Porter said: "This is like the seventh inning. Now we are heading to the ninth. We have runners on base and are going to work hard to bring those runners home."
It should also be noted that the U.S.-favored baseball and softball had already been Olympic sports from 1992–2008, but were pulled out from the London Games due to lack of public popularity.
The article is first published in Russian in Kommersant Daily.
All rights reserved by Rossiyskaya Gazeta.