Serena destroys Sharapova in Paris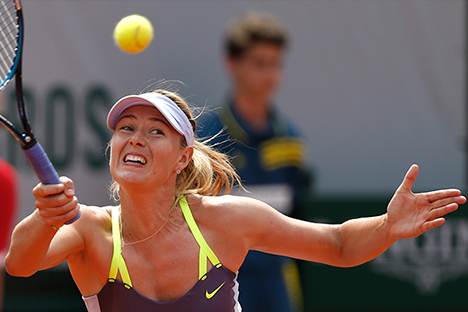 Maria Sharapova: "It's hard not to win today, but I love being part of this tournament and thank you for your tireless support". Source: AP
Maria Sharapova was not able to defend her title at the Roland Garros in Paris and yielded to Serena Williams.
With a double 6-4, Maria Sharapova lost the Roland Garros final against Serena Williams. The Russian, number two in the world, was unable to defend her title in Paris.
The American, with 16 Grand Slams to her credit, won her second Roland Garros since 2002.
Before the match, the Russian tennis player acknowledged her difficulties: "I have lost many times against her. What I've done so far has not worked. I try to go out there and do something different. I hope this time I can. It's the final of Roland Garros, you start from scratch and have to play until the last point."
But Serena Williams, the number one, came out very strong: 30 straight wins, a victory in 45 minutes in the semifinals and a high level of play.
The first set finished in nearly 51 minutes. There was a lot of tension, as befits a game of this nature. After several mutual breaks, at first Sharapova was able to trace 4-2 against Williams and recover to 4-4.
However, the American earned two break points to slip to 5-4 and served to gain the first set.
In the second set, Serena deployed a powerful and aggressive style, mainly emphasized by impeccable serving. With chinks in her own serve, Sharapova was forced to defend.
She saved six break points in her first set but could not resist in the second. At 2-1 in her favor, Williams was very comfortable on the track.
Williams ended the match with an ace at 198 kilometers an hour. Receiving the Suzanne Lenglen Cup, Serena, age 31, became the oldest champion in the history of the tournament.
Sharapova has only defeated Williams twice in her career, the last time being in 2004. Since then Williams has had 13 straight wins against her.
"I've had very tough defeats in this tournament, and one of the most special victories last year. It's hard not to win today, but I love being part of this tournament and thank you for your tireless support," said Sharapova after the match.
When asked if she was playing well against Williams, Sharapova referred to Miami. She won a set but lost the next two with 6-0 in the third. The last meeting was in Madrid, with a double 6-1 for Williams.
Jonathan Overend, from the BBC, said: "It is the 16th Grand Slam title for Serena Williams, who easily could reach 20. Please note that played against the number two, her nearest rival, she has won 13 in a row. Where is the limit?"
It is true that right now the US is far above the others, but as Sharapova said in a recent interview: "When you lose you just think of the rematch."
No doubt we'll have a chance to live to see another face-off between these two great athletes.
All rights reserved by Rossiyskaya Gazeta.