Title-holding Russian soccer clubs earn jersey stars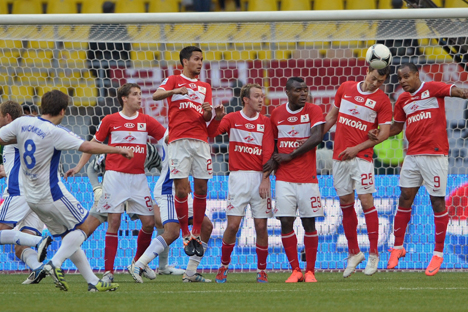 The Russian Premier League 2011/12. The match between Moscow teams "Spartak" and "Dynamo". Source: Kommersant
The Russian Premier League has given permission for soccer clubs to sew stars on their jerseys for every five Russian and/or Soviet league titles they have won. Similar stars are already worn on the jerseys of title-winners in top European leagues.
In Russia's next soccer season, which starts on July 14, league clubs will be able to sew stars onto their players' jerseys, if they wish. The decision was made at a general meeting of Russian Football Premier League clubs.
A club with five Russian and/or Soviet league titles will be allowed to sew one star on its jerseys.
Spartak Moscow will be able to adorn its jerseys with four stars, for the 12 titles it won in Soviet days and its nine Russian league titles. Dynamo Moscow will have two stars for its 11 Soviet-era titles, and CSKA will also be allowed two stars for its seven Soviet league titles and four Russian titles.
Both Lokomotiv Moscow and Rubin Kazan, which have two Russian league titles, need to win another three each before they can put the first star on their jerseys.
Zenit St. Petersburg, which has four titles (one of which was won in the Soviet era), needs one more national league title before it can receive its first star.
Bayern Munich, the 23-time champion of Germany and five-time winner of the European Cup (including two victories in the Champions League), has four stars sewn on its jerseys. Each German club is entitled to its first star after its third national league title.
German clubs receive a second star after a fifth title, a third star after a tenth title, and a fourth star after 20 national league titles. Bayern Munich will earn its fifth star when it wins its 30th German league title.
Italy's Juventus has abstained from putting stars on its new jerseys. Officially, the club has 29 Italian league titles, and it was stripped of two other titles (league champions in 2004-05 and 2005-06) by soccer officials, because of its involvement in match fixing.
Juventus managers declined to put three stars (one for every 10 titles) on its jerseys, thereby making a silent protest against the Italian Football Federation's official version of the number of league titles the club has won.
First published in Russian in Kommersant.
All rights reserved by Rossiyskaya Gazeta.