Timofey Mozgov saw NBA season as an asset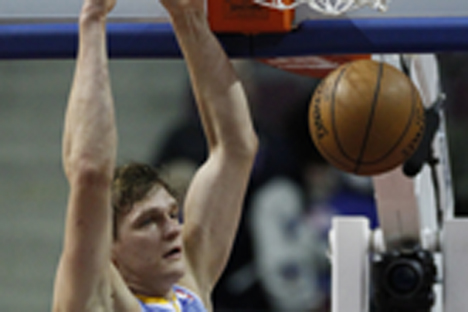 Timofey Mozgov, the Russian center for the Denver Nuggets, sums up the past NBA season.
Timofey Mozgov:
"America has made me look at some things different

ly
". Source: AP

The NBA season had drawn to a close. The championship title had been decided in the seventh game of the playoffs matchup between Miami and San Antonio.
With a score of 95-88, Miami players prevailed, clinching their second straight championship title.
Interestingly, Timofey Mozgov might have been playing on the winners' side.
Last winter, the Heat sought out the center but ultimately signed a contract with his former teammate in Russia, the veteran Chris Andersen.
Timofey kept playing for Denver, and he watched the finals from Russia, where he is currently attracting increased attention despite not having had the most successful season.
On the NBA Finals
"People constantly remind me that I could have been standing in the place of Chris Andersen, who looked good this season with Miami. I'm not jealous at all—instead, I'm happy for him."
"Of course, it would have been interesting to play in the finals. But that doesn't mean that I'm a freeloader. I preferred getting playing time with an average team to being a benchwarmer on a strong team."
On the season
"I can see this season as an asset. Even though I didn't play a lot, I gained experience. I grasped a lot of things, including [things] about life. The guys supported me all season long."
"They sympathized with me: Some of them truly wanted me to play and were even angry that I didn't make it out onto the court. But you don't question the coach's decision."
On Kirilenko and Shved
"Kirilenko is at his best. I won't say that he jumped higher than his head, but he didn't go below his level. As for Shved, I liked that the coach put a lot of trust in him, and Aleksey wasn't afraid to carry the game."
"It's another matter that no one expects much from you in your first NBA season. Everyone understands—different country, different basketball."
On life in the United States
"I don't have any problems with the language. However, I've noticed that, when I go back to the U.S., on the first day I need to get used to it and remember things a little. But I don't feel American. No, I'm Russian and no one will change me. And yet America has made me look at some things differently."
On his 2-year-old son
"It's a little hard with a child [laughs]. I don't know how it is for other fathers, but my wife takes on a large part of the burden. I can't complain; I'm just happy. If we remain in the U.S., we're going to make our son speak Russian."
"I know that Russian kids have had trouble. When the child gets to be about three or four, he speaks only English and you can't get him to speak Russian. You need to demand it: If the child wants something, let him ask for it in Russian and in no other way."
On a new contract
"Right now it's so quiet that I don't even know what to say. Everyone is waiting for July 1—only then will it be possible to hold negotiations. First everyone is going to wait to see what Denver says. I'm a restricted free agent."
On the Russian team
"It's hard to talk about the team without having been on the inside. And then, everything is just beginning. Take Blatt: David took almost 10 years to build a team. Now there's going to be a new team, so talking about prospects is as good as looking for a solution by hit or miss. It's not known what style Katsikaris will instill, which players will like him, and so on."
First published in Russian in Rossiyskaya Gazeta.
All rights reserved by Rossiyskaya Gazeta.