Flyers pay $23 million to buy Bryzgalov's contract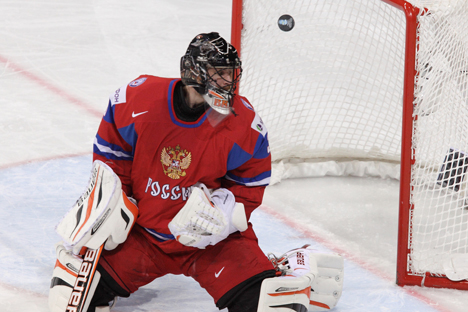 Bryzgalov is currently at the peak of his career. He holds the record for number of shutouts among NHL rookies; he won the 2007 Stanley Cup with Anaheim; he boasts the second-longest playoff shutout streak in NHL history. Source: ITAR-TASS
The Philadelphia Flyers have bought out Ilya Bryzgalov's contract and will pay him $23 million over the next 14 seasons. The Russian hockey player has become an unrestricted free agent and can now move to any NHL or KHL team.
Ilya Bryzgalov, one of the most controversial Russian NHL players — well known for his predilection for astronomy and philosophy, and also for his justification of the Stalinist repressions — has ended up without a club but with a lot of money.
The Philadelphia Flyers, who have had a turbulent last two seasons, nevertheless decided to get out of the substantial contract they had with the goaltender, who had not lived up to their hopes.
Last season, the goaltender only performed poorly in a few games and was extremely unlucky in the playoffs; but then the Pennsylvania team failed to get into the cup round, not least because of the Russian's unconfident play. One in 10 shots at Bryzgalov's net was a goal.
To get out of the crisis, the Flyers now have to make savings — but Bryzgalov's contract was like deadweight around their necks.
Luckily for the Philadelphia club, they had the opportunity to buy out the contract when the sport's pay ceiling was reduced.
Bryzgalov's contract had another seven years to run, but now, after the buyout, Ilya will receive $23 million from the club over the next 14 seasons.
In addition to the money the goaltender has already received, this will add up to the astronomical sum of $36 million for 110 matches. Thus the player will get an average of $327,000 per game.
For Philadelphia, a deal like this will still be better than keeping Bryzgalov on the team. The club will save about $5.7 million.
Bryzgalov is now an unrestricted free agent and can sign a new contract with any club—except the Flyers—over the next year. A brilliant future now lies before the Russian goaltender. Thanks to the money from the Flyers, he can allow himself to play for low wages, and there are enough clubs in the NHL that need a good goaltender.
"I'm grateful to my teammates, the management and the fans for the support they've given me during some difficult times," said Bryzgalov in an official statement. "I appreciate this experience more than many people could imagine. I'll take this experience with me to my new club, and it will help me to become stronger—both as a player and, I hope, as a person," the player said.
In Russia, Bryzgalov has a reputation as a person with a sharp tongue. RBTH offers you its six most colorful Bryzgalov quotes:
1. "I see logic in Stalin's words. People say he was a bloody tyrant, but, in those days, there was no other way to be."
2. "People are trying to make me into some kind of Messiah—but I'm sorry, I'm not Jesus Christ."
3. "I'm very interested now in the origins of the universe, and how it all happened."
4. "There are two ways for a goaltender to go—to be a hero or to be a scapegoat. I'm a scapegoat."
5. "Journalists don't mean anything. They don't pay me out of their own pocket. They can only sit there and bark."
6. "The problem with the monkeys was that, when they were in the spacecraft, they pressed the wrong button."
Based on material from Gazeta.ru and Sports.ru.
All rights reserved by Rossiyskaya Gazeta.