Klitschko, Povetkin sign contract for Oct. 5 fight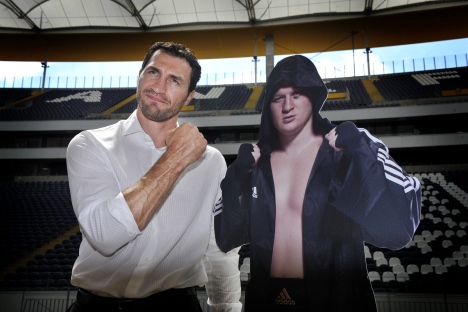 Wladimir Klitschko (L) poses with a photo of his opponent, Alexander Povetkin, at the Commerzbank Arena stadium in Frankfurt, July 19, 2010. The Klitschko-Povetkin fight could take place in 2010, but it was repeatedly postponed. Source: AP
The heavyweight match will be held in Moscow's Olympic Arena.
On July 2 it was announced that a contract had been signed for one of the most anticipated boxing matches in recent history — between World Boxing Association (WBA) Super Champion Wladimir Klitschko and WBA Regular Champion Alexander Povetkin.
The purse bid came out to $23.3 million, and about $17 million of that will go to Klitschko.
Negotiations on the highly anticipated match began in May, and the parties involved only just announced the signing on Tuesday, July 2.
The fight's organizers included the IIC Group of Companies, as well as Rosneft. The match will take place on Oct. 5, in Moscow's "Olympiyskiy," or Olympic Arena.
The purse bid for the fight came out to $23.3 million, much of which ($17 million) will go to IBF, WBA, WBO and IBO World Champion Wladimir Klitschko.
"Contracts have to be approved by the WBA, which is what was happening in the final days of June. A lot of effort was put in to this; but now we have dotted all our i's, contracts have been signed, and all we can do is wait until the historic October clash of two of the boxing world's titans," said IIC head Andrey Ryabinsky.
Rosneft's president and CEO, Igor Sechin,had this to say: "The meeting of the strongest contenders will be not only an outstanding spectacle, but it will make a significant contribution to the spirit of the rising generation of athletes, as well as to the development of mass sport."
"I am very pleased that the fight has been set," said Klitschko.
"Boxing fans all over the world are eagerly waiting for the meeting of two Olympians [Klitschko won in the 1996 Atlanta Olympics, and Povetkin won in the 2004 Athens Olympics]. This fight will be heavyweight's best, and I am impressed that the fight will be held in Moscow; many Russian and Ukrainian fans will have the chance to attend the live event. The atmosphere there will be electric."
Despite the fact that Russian and Ukrainian boxers' representatives had been actively discussing the terms of this fightsince the end of the last decade, they ultimately failed to reach an agreement on it.Thus, the WBA announced the need for a new purse bid.
Three companies made offers: Sauerland Event (Alexander Povetkin's promoter), K2 Promotions (run by Klitschko and his brother, World Boxing Council heavyweight champion Vitaly), and Hryunov Promotions (represented by Russian champion Vladimir Hryunov), which ultimately won the bid.
Sauerland Event offered $6.01 million, K2 offered $7.13 million, and Hryunov Promotions won with $23.23 million.
First published in Russian in Kommersant.
All rights reserved by Rossiyskaya Gazeta.