Formula 1 finds venue in Moscow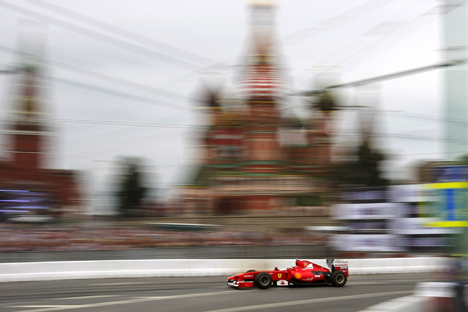 The Russian capital is holding on to its plans to host a Formula 1 race. Source: A. Zemlianichenko / AP
A 197-acre site is to be completed by 2016, near Vnukovo Airport in the southwest of Moscow.
The Russian capital is holding on to its plans to host a Formula 1 race. Moscow's acting head of the Department for the Development of New Territories, Vladimir Zhidkin, told RIA Novosti that a new F1-compliant track may be built in one of Moscow's newly-annexed territories as early as 2016.
The new track is to be built in the southwest part of Moscow, in "New Moscow" near Vnukovo Airport, as part of a 197-acre site, which will also include exhibition centers, shopping malls and business centers. Without going into further detail, Zhidkin expressed his hope that, "This track will be able to host a Formula 1 race and could later be used for other motor sport events."
This is not Moscow's first bid to host F1 races. In 2000, authorities announced that a motor sport facility would be built in the Nagatino floodplain, later suggesting that a new track could be constructed in the north of the capital by Sheremetyevo Airport. However, neither project gained traction.
Under an agreement signed in 2010 with Formula 1 president and CEO Bernie Ecclestone, Russia will host the 2014 Russian Grand Prix. A brand new track is now under construction in Sochi and will encircle the Olympic Park.
The total area of the construction site is 88 acres, with buildings occupying 1.1 million square feet of it. The track has a 3.6-mile lap and a shorter, 1.4-mile lap. The main stand will hold 13,631 spectators, and temporary stands will hold an additional 29,160 spectators.
Three organizations are in charge of construction: Omega Center and Formula Sochi (both 100-percent owned by the regional administration), as well as the Russian Automobile Federation.
According to Krasnodar Region's Deputy Governor Nikolai Buturlakin, the budget of the project (financed by both regional and federal governments) is 7.9 billion rubles ($236.9 million). As of today, over 50 percent of the track surface has been constructed.
Moscow City Racing. Source: Vimeo
The Moscow Raceway near Volokolamsk in Moscow Region—another track which could host Formula 1 races—is already in operation. Last year, the track administration announced the signing of a three-year contract for hosting German Touring Car Masters (DTM), which is Europe's most popular international touring-car series.
It was on this track that Russia first hosted World Series by Renault race. Moscow Raceway also has a five-year contract with World Superbike—one of the world's most prestigious motor series.
Today, Moscow Raceway is Russia's only FIA homologated circuit, its 1T grade allowing for any world-class circuit race—including F1, following the completion of additional spectator seating and a media center. The track is also classified as a FIM B-grade course (meaning it can host any motor sport event other than MotoGP-class ones).
Moscow Raceway is owned by Strategiya Company, one of whose beneficiaries is the Development Capital Bank co-owner, Rustem Teregulov. A total of 5 billion rubles (about $150 million) was invested into the project.
First published in Russian in Vedomosti
All rights reserved by Rossiyskaya Gazeta.