Formula-1 Grand Prix set for Sochi in October 2014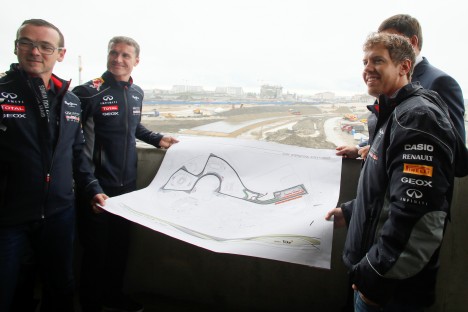 World Champion Sebastian Vettel (foreground right) and a team ambassador David Coulthard (second left) with officials hold a map of the track while visiting the Sochi Olympic Park and site of Russia's first Grand Prix in Sochi, on April 22. Source: AP
Tentative dates for the Formula-1 Russian Grand Prix have been announced. The race will likely take place in Sochi on October 17–19, 2014.
"Formula One Management, the international promoter of Formula-1, previously set the date for the Russian Grand Prix. These dates fit perfectly with our plans for the organization of the race," said Oleg Zabara, deputy general director of the Omega Center, speaking about the organization and staging of the Formula-1 Russian Grand Prix.
Zabara appeared confident that the Grand Prix would provide outstanding business opportunities and the potential to attract numerous tourists.
Race organizers also stated that the construction of all the required facilities is progressing according to plan, and work is continuing without pause.
The contract to hold the race was signed in 2010. According to the agreement's conditions, the Russian Grand Prix will be staged through 2020, with an option to extend.
Beginning next year, Sochi will host seven stages of the "royal races." Thus, Sochi will host the first Formula-1 Russian Grand Prix in history.
The Russian debut of the "royal races" could have occurred as early as 1983, when Bernie Ecclestone came to the Soviet Union specifically to reach an agreement to run a Grand Prix in Moscow.
The stage was already included in the previous schedule of the world championships, but bureaucratic obstacles prevented this from happening.
Initially, there were fears that there would not be time to hold the Grand Prix in Russia in 2014, due to the Olympics. The International Olympic Committee intended to step in if the preparation of the track interfered with the construction of Olympic facilities.
"Having the Grand Prix in Sochi is fine, but we don't want the construction of the track to compromise preparation for the Olympics," said Gilbert Felli, executive director for the Olympic Games.
Last fall, the company Formula Sochi organized an open house. At the event, Galina Chumakova, director of construction and development of the Formula-1track in Sochi, assured journalists that the work was progressing according to plan: "The design stage is complete. The preparation period for construction is behind us, all the foundations have been filled, and we are starting on the second floors."
Even Russian President Vladimir Putin had to convince the Formula-1 organizers that the roar of the motors would resonate over the city.
"The critical portion of the track is already in place. I think that, in October 2014, we'll be able to hold the first heats," Putin said at a special meeting with Ecclestone in February.
On July 17, the Formula-1 director and FIA safety delegate, Charlie Whiting, visited the track with a committee; Whiting was satisfied with what he saw.
"I'm very impressed with the configuration of the track. The design's scales are also impressive," he said after inspecting the facilities under construction.
First published in Russian in Gazeta.ru.
All rights reserved by Rossiyskaya Gazeta.