Pavlyuchenko officially retires from national soccer team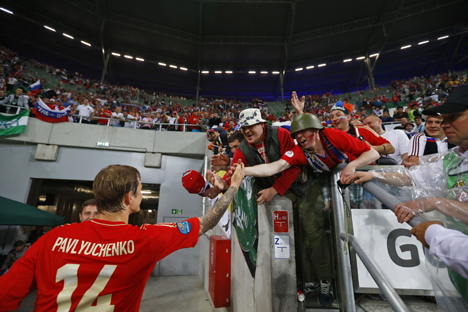 Roman Pavlyuchenko was, along with Andrey Arshavin, one of the principal figures in the Russian national team. Source: AP
Roman Pavlyuchenko, who announced his retirement from the Russian soccer team, was a symbol of his generation and one of the biggest heroes of what was a successful Euro-2008 for the national team. Although Fabio Capello has not picked Pavlyuchenko to play for his country in almost a year, a more formidable forward has yet to emerge in Russia.
Roman Pavlyuchenko announced his decision to retire only very recently, even though he has not played on the national team for almost a year already.
He played his last game for the national team and his debut under Fabio Capello on August 15, 2012, in a friendly with the Cote D'Ivoire. However, the Italian was not to pick Pavlyuchenko again.
The future of the superpower in international soccer was decided in the disastrous Euro-2012, during which the national team was not able to exit the group.
Alas Guus Hiddink, one of the heroes of the Euro-2008 championships, like many of his teammates remained at the highest level for just a few matches, before his results began to slide.
Roman Pavlyuchenko was, along with Andrey Arshavin, one of the principal figures in the Russian national team in Euro-2008, scoring a goal each in the group matches with Spain and Sweden, as well as in the quarterfinal with Holland.
In that tournament's qualifying round, Pavlyuchenko shined in the home match against England: Without Roman's double in Luzhniki Stadium, the Russian team would not have gone to Austria and Switzerland.
However, the subsequent career of the exceptional forward was not successful. His period in British soccer turned out to be controversial. Roman was not able to prove himself fully in the London club Tottenham, where he played from August 2008 to February 2012.
Pavlyuchenko would often score brilliant goals, both in the championship and the Champions League, but he never made the core of Harry Redknapp's team. In February 2012, Pavlyuchenko transferred to Moscow's Lokomotiv club, but things went from bad to worse in his new club.
Although he missed a large part of the season due to injury, four goals in the last Russian championship playing for Lokomotiv is nothing for a high-level forward.
Pavlyuchenko spent his best years on Moscow's Spartak team, whose colors he wore from 2002 to 2008. For five seasons in succession, Roman scored 10 or more goals in the Russian premiere league: The forward's trump cards were his excellent goal-scoring flair and mid-distance strikes.
Roman could have scored twice as many goals, were it not for his tendency to drop out of the game — for which he was aptly nicknamed the "sleeping giant" by Guus Hiddink.
Pavlyuchenko was never going to become a star in England with his somewhat laid-back style (and Arshavin has the same problem), even though he earned the respect of the fans there, having scored 42 goals for Tottenham in total.
Capello, for his part, is only keeping the defenders and goalkeepers from Russia's Euro-2008 team. He is forging future successes from the next generation of soccer players: Though not famous, they know how to get the best out of themselves under the leadership of their Italian trainer.
In truth, the "friends of Pavlyuchenko" won just a few outstanding victories under Hiddink — at the home match against England and in the quarterfinal of Euro-2008 against Holland.
Against the backdrop of Pavlyuchenko's ever more languid game, real strikers have not yet come to light in Russia. Even the promising Aleksandr Kokorin has yet to raise hopes.
It is no surprise that the best Russian striker of the last Russian championship, with a modest score of 13 goals, was 32-year-old Ruslan Mukhametshin from Mordovia Saransk — clearly an underdog tournament player known only to specialists.
Fisrt published in Russian in Gazeta.ru.
All rights reserved by Rossiyskaya Gazeta.