Secrets of successful race walkers: saunas and carbs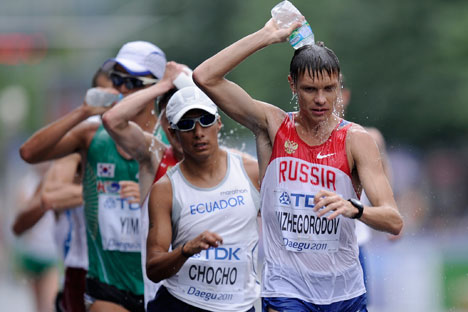 From right, Russia's Denis Nizhegorodov, Ecuador's Andres Chocho and South Korea's Yim Junghyun compete during the Men's 50km Race Walk at the World Athletics Championships in Daegu, South Korea, 2011. Source: AP
Moscow will host the world championships in track and field on Aug. 18. Denis Nizhegorodov, world record-holder in the 50k race walk explains what competitors drink to go the distance and why they are the last to leave the Olympic Game sites.
No pads
"People don't normally walk the way we do in competitions. Your leg has to be straight and your knee flexed completely during the vertical portion of the movement, and one foot must be on the ground at all times. But we don't use pads or anything else to stop us from bending our feet in our school—we're not serving in Peter the Great's army here."
Personalized flasks
"We use our own homemade carbohydrate drinks during the race. There are a number of firms that produce special powders containing 98 percent carbohydrates. You just have to mix them with ordinary drinking water. The powder-to-water ratio is a matter of choice: It's up to you how sweet you want the drink to be. It digests really well and really helps prevent muscle spasms."
"Normally, we'll make up three liters [12 cups] of the stuff in the morning before the race and give it to our coaches. They bottle it up and put it in containers with ice, which they then take to the race. We drink every two kilometers [1.2 miles]. The coach or someone from the coaching staff—never anyone else—will pass us a flask. Every flask has an athlete's name on it. When we're done with the flasks, we just discard them as we continue the race. But there are volunteers who collect the flasks and hand them back to the coaches. The coaches then wash them carefully before pouring some more."
The post-race sauna
"After a race, athletes need complete peace and relaxation. Under no circumstances should they fly home shortly after competing. As a rule, we are put on carbohydrate drips. We need liquid that contains carbohydrates. Sometimes we require medicines to maintain normal heart and liver functioning. About three days after the event, it is recommended that you take a Russian-style sauna—ideally with a switch of green birch twigs—in order to have a really good sweat. And hot-and-cold baths are useful as well."
Faster than runners
"Our average, we can cover one kilometer [0.6 miles] in about four minutes over the course of a 50k race. When I set the world record, some of my one-kilometer times were less than four minutes. Anyone can step onto the track and give race walking a go. But you've got to keep in mind that we keep that pace up for more than just one or two kilometers—we do it for 50 kilometers. I doubt that everyone would be able to do that distance on a bicycle."
Running blind without a watch
"You can't set off without a stopwatch around your wrist. If you do, then you'll be as lost as a blind kitten, or a pilot without navigational instruments. It happened to me at the world championships in Berlin. I was rinsing myself down with water and a sponge during the race. I ran the sponge down my left arm and my watch just flew off. I completed a whole circuit in a kind of haze."
"Fortunately, one of the judges noticed and picked up my watch. He handed it back to me when I came back around on the next circuit. It's against the rules, but this guy knew what he was doing and understood that I would lose pace without my watch. He helped me get back into my rhythm."
Running shoes might as well be high heels
"We call the shoes we wear 'walkers.' With cross-country running shoes, the sole is thicker at the heel than it is at the toes. The soles of 'walkers' are the same thickness throughout. You can't run in them; it's too uncomfortable. When you walk in them, however, you can put your whole foot down. Ordinary training shoes don't allow you to do that—it's like you're walking in heels. Professional race walkers would never train in running shoes; the risk of them sustaining a serious injury is just too high."
Sometimes you want to get disqualified
"One time, a judge disqualified me from the race and said 'I'm sorry.' I just thanked him. It happened at the European championships in Gothenburg in 2006. I was pretty much forced to take part in the race, even though I had an injury. My technique just looked horrible that day—I was ashamed to be out there. All I could think about was the judges pulling me out."
"I struggled for almost 19 kilometers [11.8 miles] before one of the judges showed me the red card. Then he started apologizing. I told him that I'd expected the disqualification a while back. Then I thanked him, because he'd saved me from more suffering. He asked me for my autograph."
First published in Russian in Moskovskie Novosti.
All rights reserved by Rossiyskaya Gazeta.