Isinbayeva wraps her goodbye in gold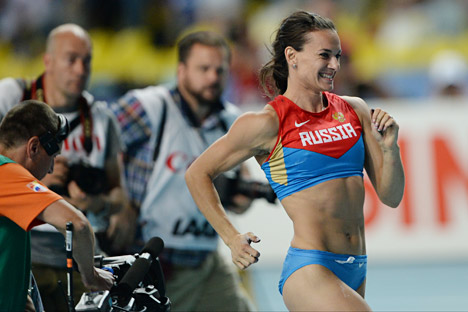 Yelena Isinbayeva left her fans with the hope to see her competing in major sport events in the future. Source: Mikhail Sinitsyn / RG
Russian double Olympic pole vault champion Yelena Isinbayeva took the gold medal in Moscow and regaining her world champion title. Will this be the final achievement of her glittering career?
Everything outside the pole vault category that took place at the Luzhniki Stadium in Moscow on August 13 was obscured by the event that all the spectators were waiting for with trepidation. An era might have come to an end as the pole vault event unfolded – the era of the legendary Yelena Isinbayeva.
It was an era which, by peculiar chance, began here at Luzhniki fifteen years ago, when an unknown girl from Volgograd carried off her first triumph in the World Youth Games. Next came two Olympic golds, six victories in various summer and winter world championships, twenty-eight world records – all achieved by delighting the aching hearts of Russian and foreign fans with her stunning performance.
Isinbayeva's supporters were eagerly anticipating her victory at the World Athletics Championships 2013 – despite the fact that her last big win dated back to 2008 at the Beijing Olympics. She had walked away without a medal from the 2011 Daegu World Championships and with a mere bronze from the 2012 London Olympics.
Isinbayeva's coach Yevgeny Trofimov clearly expected a victory, and even claimed that already in spring this year she could easily clear 5.11 metres – over five centimetres higher than her own current World Record. Alas, training jumps don't count – and the highest she'd jumped in competitions this year had been 4.78 metres.
In addition to facing strong competitors, such as U.S. Olympic champion Jennifer Suhr and Cuban contender Yarisley Silva, Isinbayeva had to contend with nagging health issues. Neither the athlete nor her coach knew for certain if her injured foot – which played havoc with her training schedule for the last month and a half – would hamper her performance. Was it worth agonising over the chance of hanging a further gold around her neck?
In the finals Isinbayeva cleared an initial height of 4.65 metres, joining six finalists who had all outdone the Russian athlete in the qualifying rounds. Her first jump went off-target – but the second was perfect, and with a huge clearance margin.
The bar moved up to 4.75 metres in the next round – and Isinbayeva took up the challenge with relish, vaulting the bar with ease. But so did Jennifer Suhr, and since the American had qualified for finals with that height, she took the lead.
As the bar went higher to 4.82 metres, just four vaulters remained fighting for medals – German Silke Spiegelburg, Isinbayeva, Suhr, and Silva. None of the four started out well at this new height. Isinbayeva was the first to succeed, on her second attempt – joined with some effort by Suhr.
Silva used up all three permitted attempts, and left the competition with a bronze. For Spiegelburg the new height proved to be impossible, and she exited from the contest coming 4th.
At that point the title hung in balance between the two top athletes – Isinbayeva and Suhr. After Isinbayeva successfully vaulted 4.89 metres, her fans were ecstatic. The three flunked attempts by the American at the same height only served to intensify the crowd's frenzy: Isinbayeva was World Champion for the 7th time!
"Only my closest friends know what it cost me to win this gold medal. It's almost certainly the most expensive and most-wanted. I went through a long period without any significant win – it's been a long journey from the Beijing Olympics to this Moscow championship. I would never have managed it all without the support of my loyal fans, my close friends, and especially without my wonderful coach Yevgeny Trofimov," Isinbayeva said after the end of the competition.
"When I missed the first bar at 4.65 metres, I didn't panic – nor did my coach," the World Champion said to journalists. "The point is that before the World Championships I'd had only three contests, so I didn't have a reason to get psyched-out. My emotions really spilled out only when I jumped 4.89 metres for the first time – and realised that I'd taken the world title. Back on April 29 I had actually cleared 5.11 metres in training and my coach had convinced me that I was in shape to jump even 5.15 metres – and I believe him."
Despite the stories that Isinbayeva might be thinking about quitting the sport permanently, she left her fans with the hope to see her competing in major sport events in the future. "There will certainly be a few more competitions this season. But perhaps this was my last World Championship," the new champion said.
"What I most want in the world now is to start a family and have a child. That means that if I plan a come-back, it will be at the 2016 Summer Olympics in Rio de Janeiro. I wouldn't make it in time for the Beijing World Championships, I'm afraid."
Based on materials from Kommersant.
All rights reserved by Rossiyskaya Gazeta.