Russian sport hides its orientation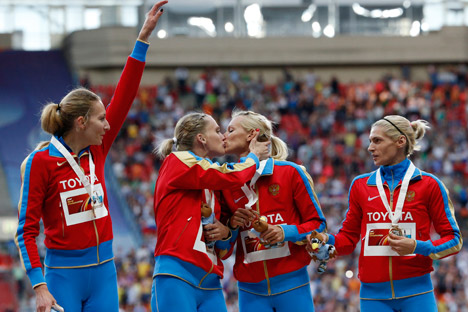 Media suggested the kiss between two members of the Russian athletics team at the 2013 IAAF World Championships last week was against 'the gay propaganda' law. Source: Reuters
While it is likely that Russia has sporting stars who are LGBT, so far none have taken steps to make their orientation public.
Experts claim that the percentage of LGBT athletes in Russia is comparable to that of Europe, however not a single top-level Russian athlete has come out publicly as a member of a sexual minority.
Neverthless, the LGBT Sport Federation is officially registered in Russia and organizes mass events, sporting competitions and sends national teams to the global Gay Games.
Said Konstantin Yablotsky, president of the Russian LGBT Sport Federation: "Lesbians dominate competitive and combat sports, while there are more gays than usual in artistic events – ballroom dancing, figure skating. Our organization knows of three Olympic-level LGBT athletes, but they never speak about it."
Albert Rodionov the head of the psychology faculty at the Russian State University of Physical Culture, Sport and Tourism, said that LGBT athletes were concerned how they might be treated by their fellow sportsmen and women. "They prefer to keep silent about their orientation, because this could give rise to difficulties for them in relations with their local and national teammates."
A former member of the Russian national team for one of the cycling sports, who supported the creation of the LGBT Sport Federation, initially agreed that her name be made public, but at the last moment she sent an text message saying that she had changed her mind.
She later said in interview: "All professional sportsmen are cultured and educated people, and nobody is going to make a noise about them belonging to a sexual minority. It is impossible to think about love at local and national competitions, we are always busy with our work and it is practically impossible to judge whether someone is gay or not by their behavior. This does not reflect on relations in the team or among the officials, even if someone has guessed something. Naturally if you are camp and whisper to the press, make a noise about being gay or lesbian then possibly attitudes would change, but to my recollection there were no incidents of this."
Sports psychologist Galina Zavyalova said that gay athletes fear a negative reaction from fans more than from fellow competitors.
Alexander Shprygin, president of the All-Russian Association of Soccer Fans, said that these fears are well-founded. "The fan community cannot accept this and can never understand it. In Russian terms, sportsmen are never able to 'come out,' as this would lead directly to the end of their careers."
There is more at risk for Russia's gay and lesbian athletes than the love of fans, however. Members of national teams, even reserve members, receive a significant amount of funding from the federal and regional budgets. Coming out would mean a loss of income as well as coaching and training support.
Some in Russia's sporting community believe that the existence of the Gay Games and gendered competition is damaging to the LGBT cause overall.
"There is no reason to delineate competition for LGBT athletes and all the rest. At the end of the day whether someone belongs to a sexual minority does not mean that they have physical disabilities," said Galina Zavyalova.
Konstantin Yablotsky noted that limiting competition to men or women hinders acceptance. "There should be integration, not segregation. The fact that this separation between competitions for straight and gay sportsmen exists at all is linked to homophobia, gender restrictions and prejudice, which are very apparent in sport. For example, men are not allowed to compete in synchronized swimming either solo, as a duo or in groups. Single sex male or female couples are not allowed to compete in ballroom dancing and so on."
First published in Russian in Moskovskiye Novosti.
All rights reserved by Rossiyskaya Gazeta.