A Russian driver returns to Formula One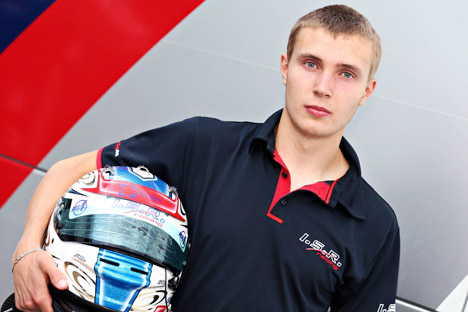 Sergei Sirotkin demontrated excellent results at the Italian Formula 3 championship in 2012. Source: Imago / Legion media
After Vitaly Petrov left Caterham at the end of the 2012 season, it did not take long for Russia to get one of its own back into the royal motor racing class. Sergei Sirotkin will be driving for the Swiss team Sauber in the new season.
Russia is home to a whole generation of promising young racing talent. Many hoped for a breakthrough from 19-year-old Daniil Kvyat, a driver for Red Bull MW Arden's junior team in the GP3 racing series. The native of Ufa (now a resident of Rome) was considered, up until the last moment, the top pick for test driver for Red Bull Racing—home team of three-time world champion Sebastian Vettel of Germany. In the end, however, the team management decided in favor of more seasoned drivers.
Russian motor sports fans also had some hopes for Formula Renault drivers Daniil Move and Mikhail Aleshin, but neither was able to find adequate sponsors and both remained in the series.
The fate of Sergei Sirotkin, 17, followed a totally different course. Formula One Sauber team signed a contract in mid-August with Russia's National Institute of Aviation Technology and announced on Aug. 23 that Sergei Sirotkin would become the team's test driver. In fact, the Russian company's CEO, Oleg Sirotkin, is the racer's father, and Sergei's signing was an integral part of the sponsorship contract.
Under the contract, the National Institute of Aviation Technology must raise between €20 million and €30 million ($26.7 million–$40.1 million) by next season, depending on the initial readiness of the driver and the car. It is no secret that Sauber is facing serious problems, and getting deep-pocketed sponsors from Russia onboard will help the team develop. Yet it would be wrong to say that Sirotkin's debut in the royal class only is totally dependent on his father.
Sergei began his go-karting career when he was 12 and, at the age of 15, he debuted in formula motor racing, signing with Jenzer Motorsport and taking part in the inaugural session of the Formula Abarth Italian series. He earned points for his first race on the Vallelunga circuit, before following up with four more finishes in the points zone and placing 18th for the season.
The following season, Sirotkin raced in the Formula Abarth for the same team, before transferring to Euronova Racing prior to the Spa round. The series has been based in Italy and Europe since its 2011 season. Sergei won Formula Abarth's European title after winning five races out of 14.
In 2012, Sergei moved to Auto GP, continuing his cooperation with Euronova Racing. Sirotkin qualified for second position in the first round in Monza, 0.04 seconds behind Adrian Quaife-Hobbs. After a bungled start, Sergei finished 14th in the first race but managed to place fourth in the second race, setting lap records in both races. He again qualified second to Quaife-Hobbs in Valencia, but he outraced the latter to become the youngest winner in Auto GP's history.
It is worth noting that, simultaneously with Auto GP races, Sergei Sirotkin took part in the Italian Formula 3 championship in 2012, demonstrating excellent results.
"The invitation to join Sauber came as a big surprise to me," Sirotkin said. "I was supposed to spend another season in the World Series, yet here I am: ready to test in Formula One before the season is even over. Experts and professional racers believe it's too early for me to race in Formula One. I don't argue with that, but I had to grab this opportunity this year, before it was too late. I decided to not pass up on this—otherwise I would have regretted it for the rest of my life."
Nikolai Fomenko, president of Marussia (Russia's only Formula One team), congratulated the Russian driver. "Sergei is a very talented racer, capable of achieving serious progress in Formula One," Fomenko old RBTH. "I have been watching his career closely and can say that he is definitely making progress. Of course, Sergei will be a test driver but, before that, he'll be able to feel the spirit of Formula One; and then he might still get a shot at competing in actual races. Test drivers often stand in for main drivers as the season unfolds. It will be exciting to see how he performs."
All rights reserved by Rossiyskaya Gazeta.