Skaters pick 'Jesus Christ Superstar' for Sochi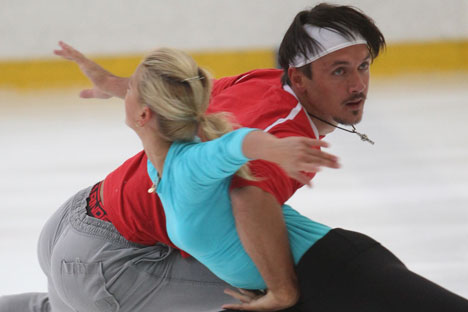 In an interview with Rossiyskaya Gazeta, world figure-skating champion Maksim Trankov and Tatyana Volosozhar talk about their plans for the upcoming Olympics and beyond.
World champions Maksim Trankov and Tatyana Volosozhar training their new program. Source: Sergei Vasenin / RG
Maksim Trankov and Tatyana Volosozhar have presented their new program with which they will compete at the Olympics at Sochi.
The waltz from Aram Khachaturian's ballet "Masquerade" was chosen for the short program, but the couple will dance to Andrew Lloyd Webber's rock opera "Jesus Chris Superstar" in the free program.
Rossiyskaya Gazeta: You have revealed elements of your new programs. In percentage terms, how much is there left to do before they are fully ready?
Tatyana Volosozhar (T.V.): Eighty percent—we are moving forward step by step. The trial competitions will soon take place in Sochi and these are closed; this is where we demonstrate our full program.
RG: What stage are the costumes at for your events?
Maksim Trankov (M.T.): The costumes for the short program are ready and we are overjoyed with them. With the free program it is more complicated. For instance, Christ's chlamys cannot be replicated in figure skating—it's banned under the rules. Nevertheless, we already have preliminary costumes, and, through the course of the season, other options will appear, but we will choose the best one at Sochi.
RG: Maksim, it is your initiative to dance to Webber. Where did this idea come from?
M.T.: When we were children, my brother used to listen to rock music, and one time he brought home the "Jesus Christ Superstar" record. We were hooked. Then I saw how Averbukh and Lobacheva danced to this music and, to be honest, I thought to myself: 'I could dance it better than that.' Indeed, many chose this theme, but somehow the performance was odd. I really wanted to perform a program that could tell the stories of individual characters—in our case, Christ and Mary Magdalene.
Watch video from the trainings of "Jesus Chris Superstar". Source: Youtube / Svetapoln
RG: Is it not scary to play Christ?
M.T.: In this program I am skating purely as a character in a play, which bears no relation to anything biblical. Our trainer was concerned if it was worth adopting this theme. It remains a very complex and responsible character for an Olympic season. There will probably be criticism; not everyone will understand it. However, Tatyana and I are used to just going ahead with things.
RG: Tatyana, how interested are you in the characters of Mary Magdalene and the baroness?
T.V.: The love theme is dear to me, as I am a romantic person by nature. While it's true that my character in the short program suits me better, I like everything in the free program. The music is so brilliant that, even if I am in a bad mood, I dance to it animatedly.
RG: You have taken on so many characters—Do you not want to try your hand at the theatre?
M.T.: I would love to. The theatre or the cinema—I really hope that I will have an opportunity in the future. Alas, they have not noticed me yet (laughs).
T.V.: I would prefer a career as a singer. But I could always play a role in TV series.
RG: Do you have your own particular style as a couple?
M.T.: We don't just have one style. Our position is: Give us any music and we will dance to it. If you were to ask us to perform a break dance, we would study it all summer and perform it in our own way. We have never become attached to an image. We don't want to be called a romantic couple, for instance. I think that's a truly professional approach.
RG: Is there life on the ice after Olympic gold?
M.T.: We think there is. We are still young and have no injuries. Motivation—why do we need it? It's nice to skate without motivation, not thinking of the elements but of the art.
First published in Russian in Rossiyskaya Gazeta.
All rights reserved by Rossiyskaya Gazeta.