Russia's gymnastics team to prove itself in Belgium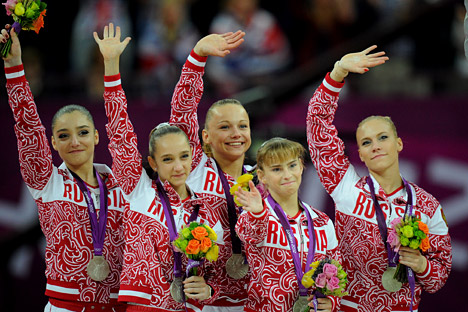 National artistic gymnastic at the podium of London 2012 Olympics. Source: ITAR-TASS
Flues and traumas have weakened Russia's national team right before the World Artistic Gymnastics Championship, which opened in Antwerp on Sept. 30. One of Russia's main gymnastics stars, Victoria Komova, will not be able to participate in the competition. Now all the hopes and dreams of sports fans are with Alia Mustafina, London's Olympic champion.
The first post-Olympic world championship is always difficult for athletes, including gymnasts. Most athletes still have not had enough time to rest after all the moral and physical exhaustion they went through during the Olympic Games. In Antwerp, during the World Artistic Gymnastics Championship (Sept. 30–Oct. 6), the Russian team will experience all these troubles even more heavily.
Ten days before the start of the tournament, on the territory of the very famous Moscow Region training ground Ozero Krugloe, open training sessions were held and the coaches announced the final members of the teams.
Two leading gymnasts were not able to make it onto the team: two-time world champion and silver medalist of the 2012 Olympic Games, Xenia Afanasieva, who had undergone surgery on her ankle joint, and 2011 world champion on parallel bars and 2012 Olympic individual all-around medalist, Victoria Komova, who was only discharged from the hospital on Sept. 27. Komova was busy undergoing rehabilitation from the virus she caught at the end of August, right before the Russian Cup.
"Komova had really physically prepared herself for the tournament. But, one night, she suddenly got a fever and she started feeling nauseous. When she was hospitalized, it turned out that she had aseptic meningitis in a light form," Valentina Rodionenko, Russia's head gymnastics coach said during a press conference. "She cannot do any physical activity in the next few months."
2012 Olympic individual all-around medalist, Victoria Komova. Source: Corbis / FotoSA
The team's leader, world champion and Olympic champion Alia Mustafina, is also not in the best form, due to health problems. When the open training sessions began, Mustafina already had been battling her fever for a whole week; hence, her preparation for the tournament was not at all ideal. Nevertheless, Alia promised to fully recover in time for the championship.
The gymnasts
Alia Mustafina, 18
Alia Mustafina. Source: RIA Novosti
The 2012 Olympic champion on bars, silver medalist in the team competition, bronze medalist in all-round women and free exercises, London's most decorated athlete, two-time world champion 2010—these are some of Alia Mustafina's titles. According to coaches, Mustafina will demonstrate a modified program on the bars in Antwerp: She will be doing new connecting moves and new elements. The base value of this routine will be 6.7 points, which is the world's highest point-value after China's He Kexin (6.9).
The beam and free-exercise program have also been modified, so everything will depend on how Alia performs. In addition to this, if her health conditions are stable, Mustafina will try to complete two vaults in order to get into the finals on this apparatus. As a reminder, it was after completing a jump during the 2011 European Championship that Mustafina ruptured cruciate ligaments in her knee, which could have put an end to her career.
Maria Paseka, 18
Paseka is London's silver medalist in the team championship, bronze medalist in the vault jump, and three-time champion of the Kazan-2013 Universiad. Maria has problems with her spine, so she will not be able to compete in the free-exercises category. It is believed that her coaches will allow her to perform only one routine: either a vault or a bars program.
As for the men's team, it could have also been better. Chief national coach Valery Alfosov has made a statement that Nikolai Kuksenkov will not be able to participate in the world championship, due to finger trauma. However, the final decision will be made in Belgium, where the Russian team flew out to on Sept. 25. If Kuksenkov decides not to participate, then, in the individual all-around competition, Russia will only be represented by David Belyavsky, who is the 2013 Europe champion in this program.
Nikolai Kuksenkov, 24
Nikolai is the winner of the European Championships (representing Ukraine) and three-time Kazan Universiad champion (representing Russia). This gymnast is interesting because, in 2012, he left the Ukrainian team and joined the Russian team. Kuksenkov was not afraid of losing his team leader title (as the multi-time champion of Ukraine ranked #4 during London's Olympic Games in the individual all-around competition) or ceasing training with his father and coach, Yuly Kuksenkov. In Russia, many are counting on Kuksenkov Jr. to earn a medal in the all-around competition.
Denis Ablyazin, 21
Ablyazin is the two-time 2012 Olympic Games winner in vault and the free program. According to coaches, Ablyazin has put together a really difficult free program, which is worth up to 7.2 points. No one else in the world can do this. He is also counting on showing excellent performances on the rings and on vault.
Prognosis
Andrei Rodionenko, chief coach of the Russian gymnastics team:
"The world championship is the beginning of a new, post-Olympic Games season. We have certain problems—for example, health problems of our athletes. But this doesn't mean that we have the right to perform at a lower level than Russia can in gymnastics. In the time we have before the championship, we have to preserve the shape our gymnasts are in and cure those who are ill."
Valentina Rodionenko, state coach of the Russian gymnastics team:
"The upcoming world championship, just like any other championship after the post-Olympic season, will be very tough for gymnasts from all over the world—and that's without the flues and colds we have to deal with. The women's team has suffered more than the men's. Nevertheless, I am confident that those who will be participating in the championship will be able to manage completing their programs; they have had great training sessions. We will try not to upset our fans. The team is ready for this."
All rights reserved by Rossiyskaya Gazeta.