Kirilenko: 'My team is a favorite in the NBA season'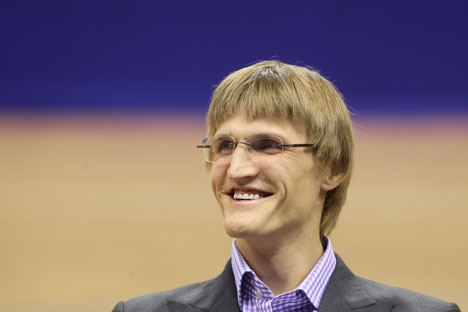 Kirilenko: 'There are a lot of Brooklyn fans due to all the components—a Russian player, a Russian owner, and there's a huge Russian community in Brooklyn.' Source: Iliya Pitalev / RIA Novosti
Brooklyn Nets forward Andrei Kirilenko, affectionately known as "AK-47," discusses changes on the Russian team, a CSKA-Brooklyn game, and the battle for the NBA championship.
On the hopes for NBA title victory
"The preseason officially starts in late September. So just a few days more, and then it all begins. As far as Brooklyn is concerned, I've been given the rare opportunity to be on a team where there are a lot of players who can play basketball at the highest level. And this really is a great chance: It's the possibility to fight for the title. It doesn't mean we'll win, but it's a chance to fight for the title. Naturally, it's going to be hard to do—Miami is the main contender, and there are a lot of teams that look fantastic. But, overall, it's the first time in my career when I'm playing for a team that, from the outset, from the beginning of the season, is a favorite."
A CSKA-Brooklyn game could happen
"I think there's a good possibility for a CSKA-Brooklyn game. I don't know about next year, but I think anything is possible. In any case, it will happen—I'm sure of that. For Russia, Brooklyn is becoming a home team. Not for everyone, of course: Some people still root for the Lakers or Miami. But there are a lot of [Brooklyn] fans due to all the components—a Russian player, a Russian owner, and there's a huge Russian community in Brooklyn. I'm counting all Russians, including Ukrainians—all the Russian speakers. We're all a product of the USSR."
A time for changes on the Russian team
"Of course, like all fans, I was disappointed in the Eurobasket results [in which the Russian team was eliminated after the group stage] . I think the time had come for changes for the Russian team. When I joined the team 14 years ago, there was also an older generation that was leaving and a younger one coming in. The results were not impressive. Now there is a similar situation, so people need to be patient. In this situation, it's hard for the both the players and the coaches, but they just need to grit their teeth and work. I think this is outstanding experience for the guys: They take a hit now so they can fall and then get back up."
AK-47 will no longer play for Russia
"I gave 14 years to the [Russian] team, and now I feel that it's time to step away. I have far too little time for my family. This year, when I wasn't playing for the team anymore, I really got to know my kids well: I found out what they like, what they don't like, what sports they most want to do. This might sound a little funny, but I don't want to miss seeing my kids grow up because I'm playing basketball. I think I've done pretty well when it comes to the teams and my personal club career. I might have two, three or four more years left to play. After that, I physically won't be able to keep playing at as high a level. As a professional, I want to play at the highest level. Of course, on the one hand this is a very hard decision, but, on the other hand, it's very easy. But it feels good."
Sergei Karasev's chances with Cleveland
"I have just one piece of advice for Sergei: Work, work and work some more. The NBA can create and develop talents. Of course, he won't get a lot of playing time right away, but he'll have a fabulous opportunity to show what he can do, since Cleveland has a lot of young guys and Sergei will definitely get his chance. How he takes advantage of this chance is up to him alone."
First published in Russian in R-Sport (RIA Novosti).
All rights reserved by Rossiyskaya Gazeta.