Ovechkin off to a sizzling start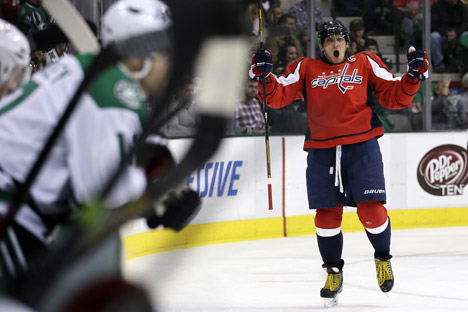 Last season brought Alexander Ovechkin the third MVP title of his career. Source: AP
Russia's most popular hockey player, Alex Ovechkin, won the first award of the NHL season. He was named the best player of the league's first week. However, Ovechkin's team, the Washington Capitals, has been underwhelming so far.
Alexander Ovechkin was quite busy during the end of September. He flew to Greece to act as Olympic torch bearer, receiving the Sochi flame right after its lighting.
Back in the U.S., Ovechkin labored away not on the ground but on the ice — and with a stick in his hand instead of a torch.
Last season brought Alexander Ovechkin the third MVP title of his career, despite his lackluster start. So far this year, he's on a roll.
In three games, Ovechkin has recorded four goals and two assists. Playing against the Calgary Flames, he performed like Superman.
After the first period, Washington trailed, 0:3. Then two goals from Ovechkin brought them close; after Ovechkin assisted Nicklas Backstrom, the score was even. The Russian outperformed in the shootout, as well.
Mikhail Grabovsky has steadfastly supported Alexander Ovechkin. Washington acquired the Belarusian forward this summer from the Toronto Maple Leaves — a move some experts doubted.
Indeed, Grabovsky played lackadaisically last season: sixteen points in 48 games.
Yet the detractors are ever fewer, since, in his debut match for the Capitals against the Chicago Blackhawks, the industrious Belarusian notched a hat-trick, matching Ovechkin's overall score tally.
It is another matter that the Slavic forwards' feats have not brought the club happiness. The hard-fought win over Calgary (5:4) is the sole victory to Washington's credit.
They lost to both Chicago and Dallas, with whom Russian wunderkind Valeri Nichushkin is acclimating to the NHL.
Unlike Washington, two other clubs with Russian players — the Pittsburgh Penguins and Toronto Maple Leafs — are having excellent starts.
Of course, the fact that Pittsburgh recorded two consecutive victories over the New Jersey Devils and Buffalo Sabers (winning big both times, 3:0 and 4:1) surprised no one: After all, the team is heavily favored, while their opponents are not favored at all.
Toronto has won three of three games — against the Montreal Canadians, Philadelphia Flyers and Ottawa Senators. Nikolai Kulemin, a Russian forward for Toronto, while not as spectacular a player as Ovechkin or Malkin, is hard-working and helpful.
However, over the coming two weeks, the club will have to play without its second-string leader.
At a recent practice, Kulemin blocked a shot and injured his leg. Thus, Russia suffered its first loss of the new season.
All rights reserved by Rossiyskaya Gazeta.