Daniil Kvyat: The flying Russian on the F1 circuit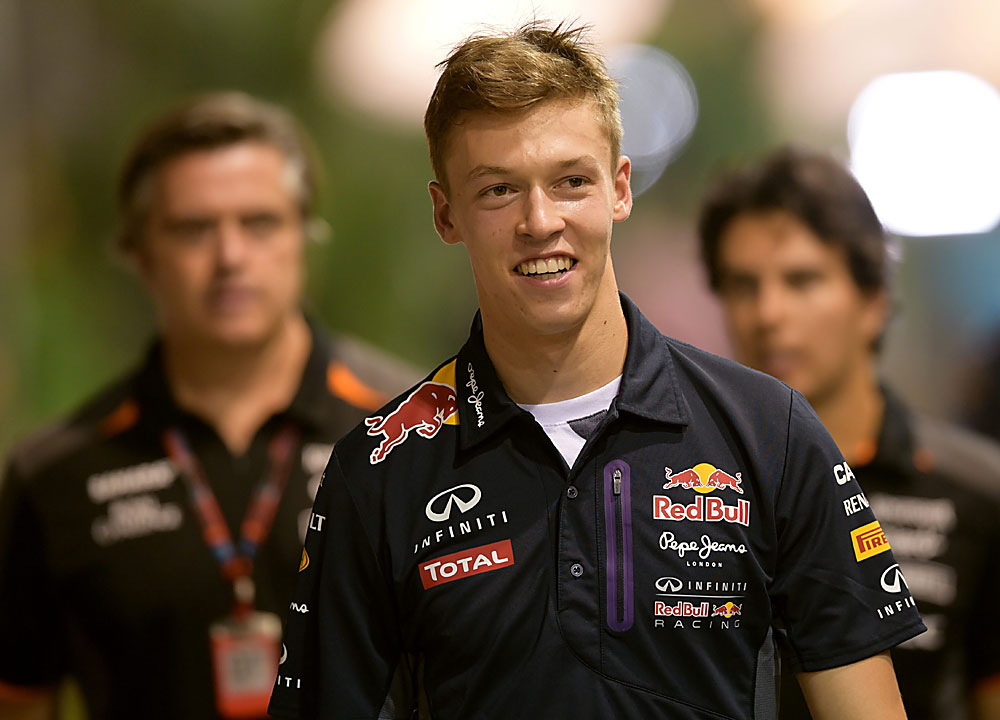 Red Bull driver Daniil Kvyat of Russia walks to the drivers meeting following the second practice session at the Singapore Formula One Grand Prix on the Marina Bay City Circuit in Singapore, Saturday, Sept. 19, 2015.
AP
The new sensation on the formula 1 circuit, young Russian F1 driver Daniil Kvyat tells RIR how Red Bull intends to outdo Mercedes and Ferrari this season.
The Melbourne grand prix race on March 20 kicks off the new Formula 1 season. For the 21-year-old Red Bull Racing driver Daniil Kvyat this is only the third year in the royal races. However, the young Russian is expected to win at least one leg of the Grand Prix races. Given his track record, Russian F1 fans have reason to be optimistic: Kvyat is one of the most progressive drivers on the circuit.
In the top 10 in just two years
Kvyat, a fresh GP3 champion, successfully debuted for the Toro Rosso team in 2014, becoming one of the youngest F1 drivers, younger even than Sebastian Vettel.
The young Russian moved to Red Bull a year later, replacing Vettel, who had signed on with Scuderia Ferrari. In one season Kvyat got 95 points, reaching seventh place in the individual competition. This is the best ever result for a Russian F1 driver. In comparison, Kvyat's predecessor Vitaly Petrov managed to get only 64 points in three seasons. The highest spot Petrov reached in a season was ninth place.
A historic podium
Kvyat set another Russian F1 record in 2015, reaching second place in the Hungary Grand Prix. The highest Petrov managed was a third place on the podium (at the Grand Prix in Australia in 2011). But Kvyat prefers not to emphasize his achievement at the Hungaroring.
"There were several other races of which I'm even more proud. The turning point in the season occurred at the Monaco Grand Prix. I was able to finish fourth and this gave me a lot of confidence. I understood that I was working in the right direction. I also remember the Mexico Grand Prix. This was the best race in terms of fuel consumption." (In Mexico, by economizing on fuel, Kvyat was able to make the least amount of pit stops among his competitors without his car not losing in speed - RIR).
Source: AP
A harsh battle within the team is additional stimulus
Red Bull has in 2016 presented a new car with which Christian Horner and company hope to break Mercedes and Ferrari's hegemony. The Austrian team will continue using the Renault engine but under the TAG Heuer brand.
The Russian Kvyat praises the new fireball. "Sure, we still need to get used to it, but the first test drives have shown that we can expect excellent results."
There is also internal competition between the Red Bull drivers. Last season Kvyat surpassed his teammate, the Australian Daniel Ricciardo, in the general qualification by just 3 points.
Kvyat believes the internal rivalry is beneficial for both the drivers and team.
"When we remove our helmets, we have really good relations. But we are also competitors and each time we're on the track we try to make each other's life very difficult. This is normal. Competing with Ricciardo helps me reach a new level, increase my limits. It forces me to work harder, learn new things," said Kvyat.
Among all 18 F1 drivers Daniil Kvyat has among the most modest of salaries. He will earn 680,000 euros in 2016, which puts him in 14th place, in terms of earnings. The highest earner is McLaren driver Fernando Alonso (36.5 million euros). Kvyat's Red Bull teammate Daniel Ricciardo is in seventh place with earnings of 5 million euros.
Despite the obvious success, Kvyat himself is ambivalent about last season.
"There is room for me to grow. It was my second F1 season and the first in such a serious organization as Red Bull. I was surrounded by new engineers who proposed approaches that were completely new for me. Many things I basically had to learn from scratch. That is why it was difficult for me to accumulate points in the season's first races. I was a bit nervous and made mistakes that are not characteristic of me. But I didn't give up and communicated a lot with the engineers. You can say I lived with them. And this yielded fruit," the young Russian said.
All rights reserved by Rossiyskaya Gazeta.