Russia's strongman performs incredible feats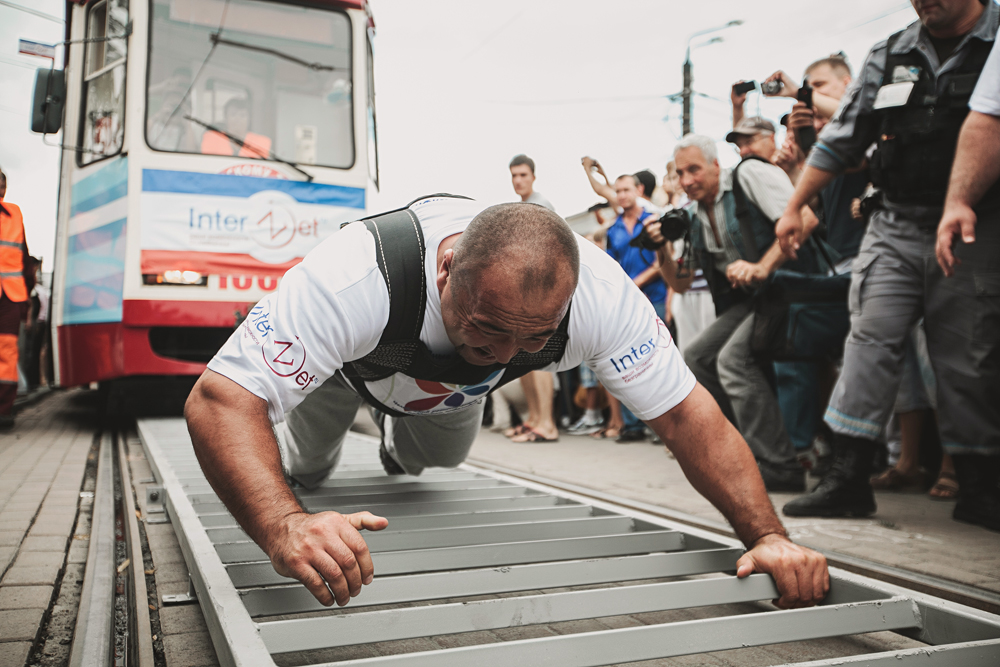 In the summer of 2013, Elbrus Nigmatullin demonstrated his enormous power by moving seven coupled-together trams, with a total weight of 127 tons, for a distance of 7 meters.
Yevgeny Khazhey/TASS
The best known Russian 'strongman,' Elbrus Nigmatullin, can perform phenomenal stunts like stopping horses at full gallop, lifting a camel, and manually spinning a Ferris wheel.
Elbrus Nigmatullin is Russia's most famous strongman, who makes regular appearances on a TV show called 'The World's Strongest Man.' He always manages to surprise Russian audiences with his spectacular stunts.
Stopping a galloping horse
Nigmatullin, a 41-year-old 'strongman' from Chelyabinsk (1500 km east of Moscow) dared, on March 3, 2016, to repeat a feat performed by the legendary 19th century Russian acrobat Alexander Zass (also known as Samson). 'Samson' had, with his two hands, held onto two horses pulling in opposite directions, a feat only visible on some black-and-white photographs. The feats of the modern Russian Hercules from Chelyabinsk are on view and easy to find on YouTube.
"This strongman act is performed as a tribute to Russian strongmen of the 19th century, and an attempt to revive the forgotten achievements of our legendary athletes of the past. For over a century, no athlete in the world dared to repeat this dangerous strongman act", Nigmatullin told RIA Novosti.
The athlete said he did not need horses to train.
"I used common football (soccer) goalposts, parallel bars and crossbars as exercise equipment. Then I used barbells and dumbbells in a training room," Nigmatullin told Rossiyskaya Gazeta.
Lifting a camel
Nigmatullin was born in Bashkiria, a region south of the Urals, inhabited largely by nomadic herdsmen. During his childhood, Elbrus competed in local ethnic 'Kuresh' wrestling competitions. Then he opted for heavy athletics, arm wrestling, and power-lifting, moving in 2001 to the strongmen athletics field. In 2005 he became world vice-champion. He became famous, however, not because of his athletic prowess and awards, but because of his eccentric show performances.
In March last year, for example, he picked up a platform on which a 700-kilogram camel was standing, and held it up for 45 seconds. Lifting of the camel had a symbolic meaning; the camel was a symbol of the city of Chelyabinsk, where Nigmatullin performed this feat.
Grip of steel: tram, train, Ferris wheel
In addition to incredible feats of strength and stunts with animals, Nigmatullin has also performed many exciting strongman stunts. In the summer of 2013, he demonstrated his enormous power by moving seven coupled-together trams, with a total weight of 127 tons, for a distance of 7 meters.
However, this was not enough for this strong man. Some months later, Nigmatullin managed to physically move a train weighing 320 tons for a full 10 metres along the tracks.
The popular Nigmatullin invited his fans to come to the Chelyabinsk City Park in July 2014. People gathered there witnessed Nigmatullin manually spinning a Ferris wheel with a diameter of 32 metres. It took the athlete about eight minutes to move this 34-ton structure through one full rotation. While he was moving it, one of the Ferris wheel's cabins jammed, but the strongman did not give up, and was able to successfully complete his stunt.
All rights reserved by Rossiyskaya Gazeta.