Bolshoi Theater to screen best performances on video in U.S.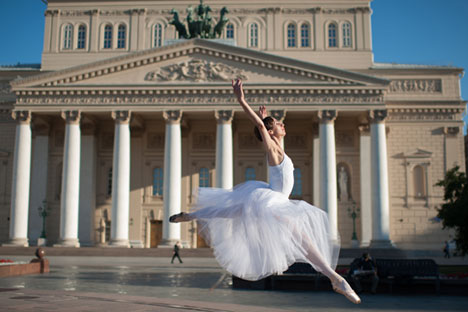 Venues in the U.S. cities of New York, Washington, D.C. and Boston are set to screen some of the best recorded performances by Moscow's legendary Bolshoi Theater.
Ballet and opera lovers in the U.S. are to get the opportunity to enjoy screenings of some of the best performances by Moscow's Bolshoi Theater in recent years.
The project will take place in Washington, D.C., New York and Boston, reports the American organization Cultural Initiative Russian Ballet, which aims at popularizing Russian art and culture.
From Feb. 20, Washington's National Gallery of Art presents a recording of the ballets Flames of Paris by Boris Asafiev and Bolt by Dmitri Shostakovich, as well as the operas Eugene Onegin by Pyotr Tchaikovsky and Wozzeck by Alban Berg.
The ballet performances were staged by the outstanding choreographer Alexei Ratmansky, and the operas directed by the talented Dmitry Chernyakov.
In New York, the Bolshoi Theater's performances will be held at New York University and Columbia University, while in Boston they will be shown at the university and the Museum of Fine Arts. The program will last until March 12.
February 20 and March 12 at 1:00 p.m.
East Building Auditorium

February 20 at 3:30 p.m.
East Building Auditorium

February 21 at 4:00 p.m.
East Building Auditorium

March 12 at 4:00 p. m.
East Building Auditorium
First published in Russian in TASS.
All rights reserved by Rossiyskaya Gazeta.