Pushkin and Chekhov stagings to be shown in U.S. and Canada cinemas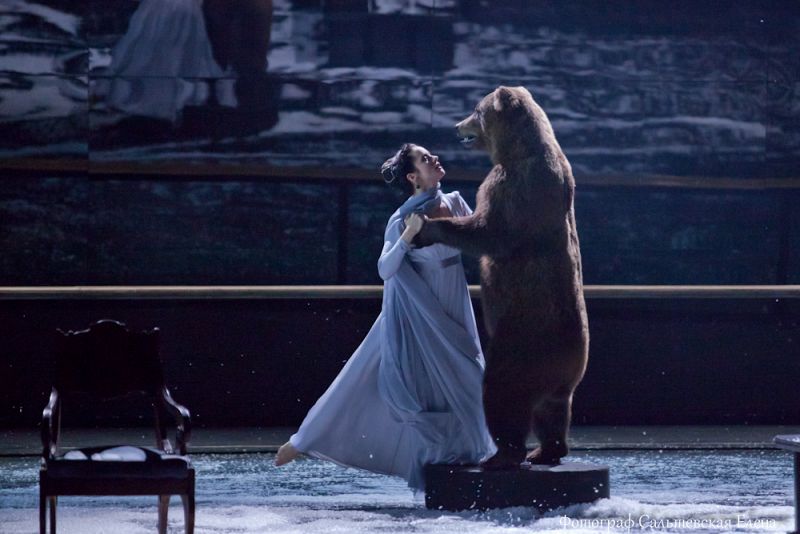 Olga Lerman as Tatyana Larina, dancing with a bear. Eugene Onegin of Vakhtangov Theater.
Yelena Salshevskaya / press photo
American expat brings Russian theatrical productions to North America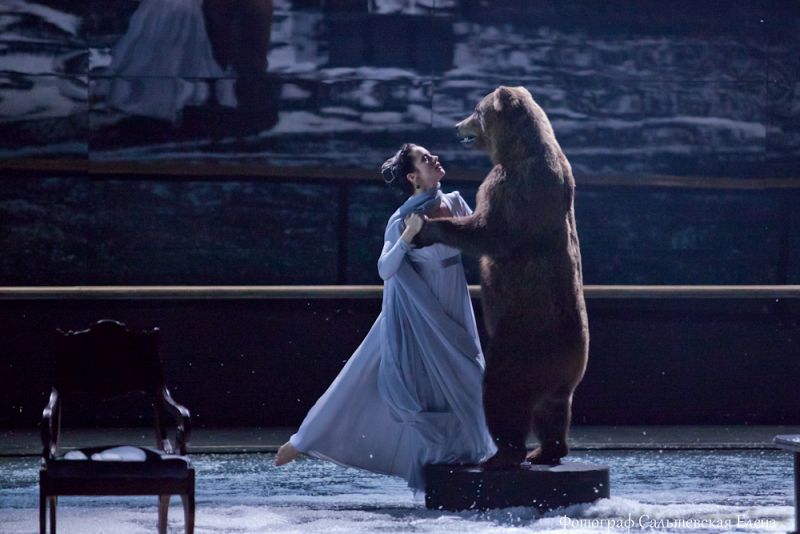 Olga Lerman as Tatyana Larina, dancing with a bear. Eugene Onegin of Vakhtangov Theater. Source: Yelena Salshevskaya / press photo
Productions of Moscow's leading theaters will be shown in cinemas all over the U.S. and Canada beginning in September 2016. The series, which will include eight productions, will run until June 2017.
Two iconic plays – Vakhtangov Theater's Eugene Onegin and the Moscow Art Theater's Cherry Orchard – have been selected as the first performances to be screened as part of the Stage Russia HD project.

Eugene Onegin trailer in English. Source: Stage Russia HD
"We chose them because they are terrific productions, first and foremost, but also because they are well-known enough titles to appeal across the board, to both Russian and Western audiences," Eddie Aronoff, an American with Russian roots and the founder of the project, told RBTH.
Productions will feature star actors that are familiar to Russian audiences, including Sergei Makovetsky in Eugene Onegin and Renata Litvinova in The Cherry Orchard.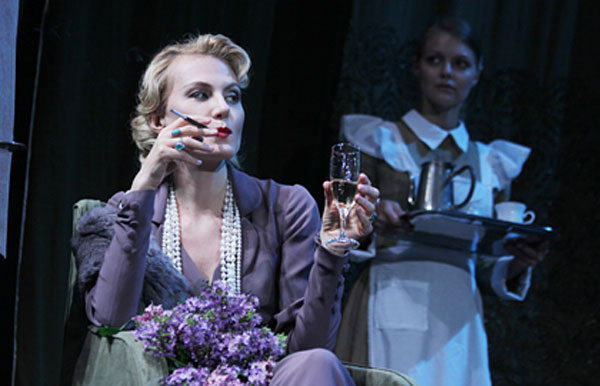 Renata Litvinova as Lyubov Rayevskaya, The Cherry Orchard. Source: Yekaterina Tsvetkova / press photo
All performances will be filmed in front of a live audience and will be presented in Russian with English subtitles. The schedule of screenings and locations will be announced soon. Updated on July 18: The first batch of cinemas (in Boston, Hudson, NY and New Hampshire) are on board, here - www.stagerussia.com

Updated on Aug. 29: The map of all cinemas to show both productions is available online - find your city and book a ticket to Eugene Oneginhere and to The Cherry Orchardhere.
Moscow theaters happy to reach a wider audience
The project grew out of Aronoff's wish to bring small, innovative theater productions to U.S. stages. But he realized that it would be logistically complicated, especially as most Russian theaters feature a repertory system, where productions are staged in a constant rotation changing from week to week.
"It dawned on me, though, that that the system, with its deep reservoir of high quality productions, was actually an ideal one for filming," Aronoff said. "The Russian theater community here in Moscow quickly embraced the concept and off we went."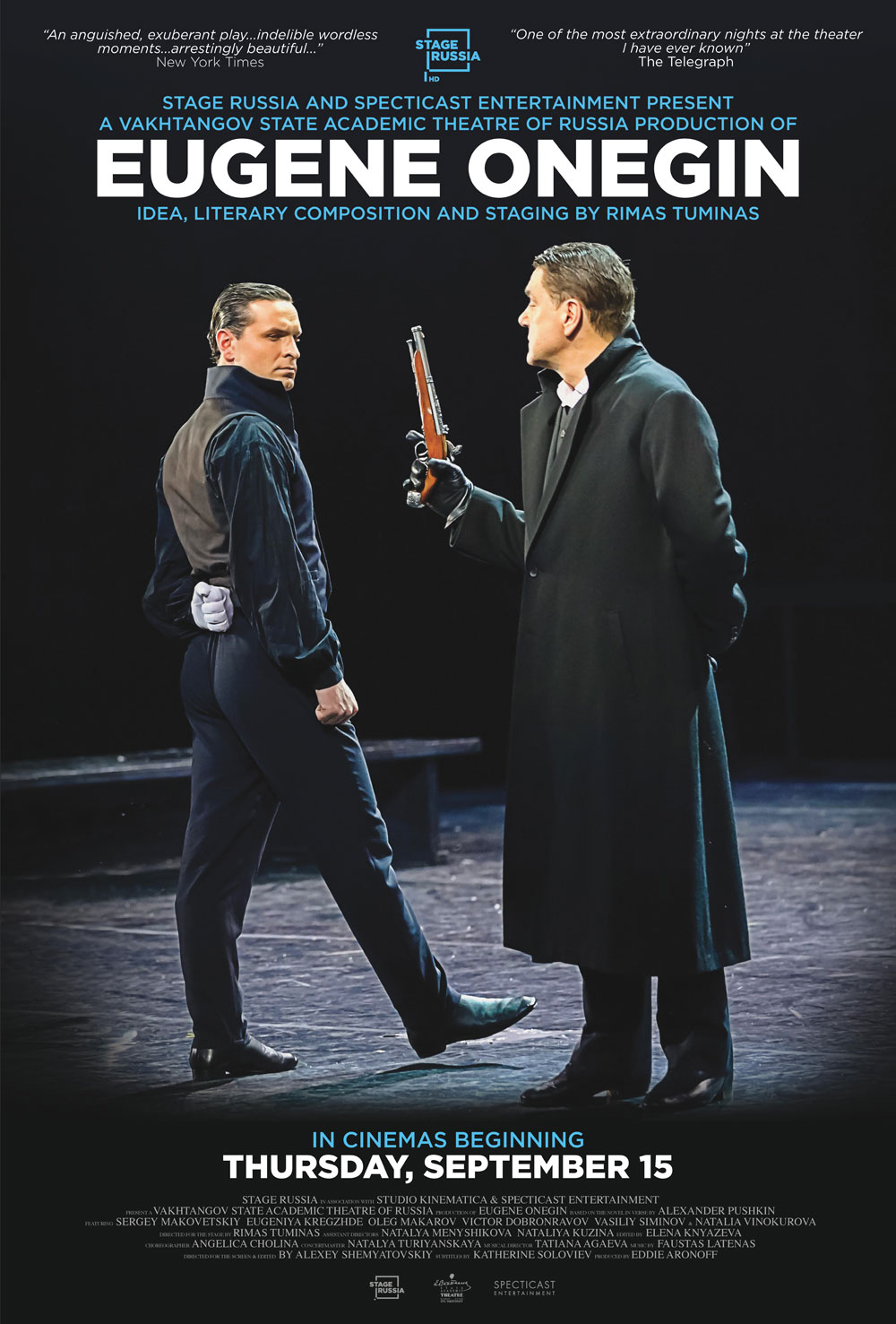 Press image
Press image
Kirill Krok, the managing director of the Vakhtangov Theater, is happy that the theater's productions will be brought to a wider audience.
"After the huge success of our North American tour in New York, Boston and Toronto two years ago, it was clear to us that the impression that Russian theater had was strong and appreciated," Krok said.
More productions planned for the future
Stage Russia HD won't stop with Eugene Onegin and The Cherry Orchard. The company also plans to broadcast the Vakhtangov Theater's dance production of Anna Karenina directed by Anzhelika Kholina. The Moscow Young Generation Theater will film its staging of Anton Chekhov's The Black Monk directed by Kama Ginkas.
Nikolai Erdman's dark comedy The Suicide, directed by Sergei Zhenovach and staged in his The Theatre Art Studio, and Three Comrades by Erich Maria Remarque performed in the Sovremennik Theater by legendary director Galina Volchek, are two other productions that will be filmed and screened. The latter staging's premiere was shown in Moscow in 1999 but the production still gathers a full house. The main female role is played by the actress and philanthropist Chulpan Khamatova.
The screenings distributor is SpectiCast Entertainment. The schedule of performances will be announced soon. For ticket and other information see www.stagerussia.com.
All rights reserved by Rossiyskaya Gazeta.