Tastes of Sochi: grape leaves and fish stew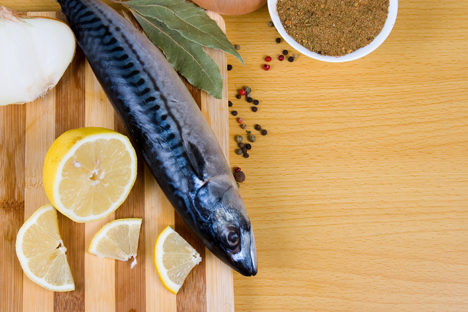 The simple old fish dish Shkara is very popular along the entire Black Sea coast. Source: Lori / Legion Media
Retired salesmen and fishermen smelling of the sea add vine leaves to a simple old fish dish, shkara, which is still very popular along the entire Black Sea coast.
The vitis vinifera commonly found in Sochi has little in common with its family from Georgia. The undemanding Isabella – the main local variety – is not particularly popular locally: it is a self-setter and grows completely unattended, winding up the flaking walls, climbing up the gazebo gratings, dangling off balconies.
Isabella is frost tolerant and bears fruit up until September. Easy to care for, it certainly pays its way and then some.
Yet where can you find the famous Isabella wine? The first place that leaps to my mind is the wine rows of the Moskovskaya Street market. Can you see the bulbous bottles with crimson liquid inside? There it is.
You need not even bother asking the salesman to make sure: he will follow your gaze without a word, unscrew the bottle and offer you a draft of the sweet "blood of the earth" in a thimble-sized cap. Smell the rich sugary odour. It is no additive: Isabella does smell like cheap sticky perfume.
"It's a ladies' wine," the salesman will explain laconically and he is right. The wine is traditionally chaptalised – enriched with sugar before fermentation – for the simple reason that "ladies like it that way." Rough local men prefer the cloudy Chacha from Sobolevka.
If you happen to wander off to the greengrocery rows in the same market in Sochi, you should take a closer look at the counters. Between narrow taragon leaves and bunches of garden cress, you are sure to find young vine leaves, stacked in impressive bundles just like banknotes.
They are pickled in anticipation of winter and preserved in three-litre, air-tight bottles but you can still find them for sale by weight, sewn together with coarse thread to keep them from sprawling and crumpling before they reach the kitchen.
Fastidious housewives will carefully feel the leaves like expensive brocade, crushing them with their fingers and scrutinising them against the light. An important condition for making juicy and tender dolma (for which the leaves are mainly used) is that the leaves must be young and freshly cut.
You can order a dolma in any Armenian restaurant: small, dark-green bundles stuffed with boiled rice and minced meat. The dish owes its traditional astringent taste to the vine leaves and, if it is dressed with garlic-flavoured matzoon, no one will ever summon enough strength to get up from the dinner table.
Retired salesmen and fishermen smelling of the sea add vine leaves to a simple old fish dish, shkara, which is still very popular along the entire Black Sea coast.
It is made of horse mackerel following strict rules: considered to be a somewhat savage dish, it requires whole mackerels, together with their heads and tails.
The recipe is almost universal, from Sochi, to Anapa, to Odessa or any other city on the Black Sea coast.
Shkara (stewed fish)
Ingredients:
- Horse mackerel or other small fish
- Onions
- Tomatoes
- Salt, ground black pepper, bay leaves
- Lemon juice
- Olive oil
Layer carefully washed, ungutted fish on a baking tray or in a frying pan (or, better yet, a cooking pot, if available) as follows: first, the fish with their bellies up, next thin onion rings seasoned with salt and pepper to your taste and bay leaves. Repeat the layers. The top layer is usually tomato slices, sprinkled with lemon juice and olive oil to taste.
Shkara usually takes 30-40 minutes to bake in the oven at 180-190 degrees Celcius, until the onions are soft.
All rights reserved by Rossiyskaya Gazeta.