For centuries, the coast dwellers from Karelia and Arkhangelsk were the masters of the seas – intrepid travelers that navigated uncharted waters to discover new shores. Yet, their achievements have since been mostly forgotten, lost to all but historians and boat enthusiasts.
It is these enthusiasts who now try to keep the glory days alive: they reconstruct historic ships based on old drawings and descriptions, and then test them out on the water, following in the footsteps of their predecessors.
"Navigare necesse est" – "It is necessary to sail." The Polar Odyssey sailing club from Petrozavodsk has been following this ancient mariners' motto for 32 years now. Here, they build exact replicas of historic ships - to date, more than 30 schooners, kochs, frigates and old Slavonic sailing boats.
With the firm hand of the club's founder and president, Victor Dmitriev, at the helm, Polar Odyssey ships have sailed no fewer than two dozen seas and three oceans.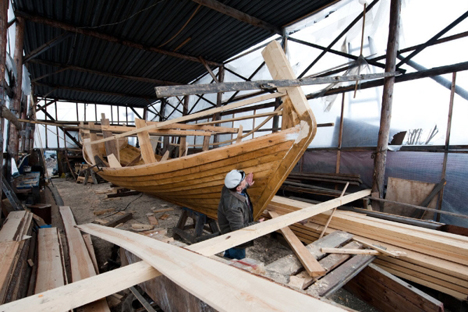 The reconstruction of a historic ship. Source: Anton Agarkov
How it all began
In 1978, Victor, who was a senior researcher at a machine building institute at the time, managed to get his hands on an old boat with a 20 horsepower engine. The newly christened Polar Odyssey then took the captain, his family and three student sailors on their first voyage, from Petrozavodsk to Leningrad.
During the trip, Victor became convinced of the fact that the seafaring traditions were dying out, and swore to dedicate his life to the reconstruction of historic ships. So he set about getting a team of expert engineers and workers together (the club now has its own design bureau).
In 1987, the club finished its first reconstruction project – the kochPomor – a boat powered manually with oars and a sail. The Pomor has traveled the northern sea routes, visited the shores of Scandinavia and even made it to Canada and Alaska.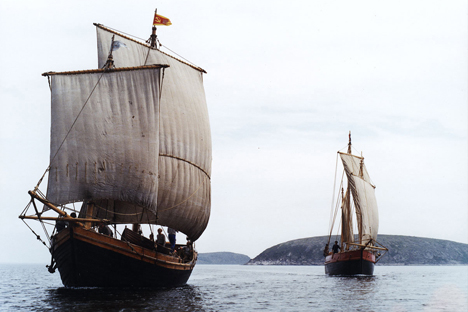 Circumnavigation under the USSR flag. Source: Victor Dmitriev
"We didn't have any real kind of navigational equipment on the koch," says Victor. "We used a compass and the stars, just like in the olden days. Nothing could vex me after an experience like that, and I felt like I could navigate perfectly well in thick fog – I'd acquired a sixth sense of sorts. It really came in handy when I was sailing in the Mediterranean. And I can confidently navigate through the islands in the White Sea, even when there is practically zero visibility."
From small ships to a drifting log cabin
The dock masters at the Petrozavodsk Maritime Historical and Cultural Center are currently busy building new ships – a 'lodya' (an old Slavonic sailing boat like a Viking ship) and some kochs.
Victor draws attention to the lodya: "She's going to a priest in Tolyatti. As for the kochs, they've been earmarked for an expedition – they're going to sail around the world northward. They'll set off from Petrozavodsk, sail through the Sukhon and Dvina rivers, toward the White Sea and Solovki. From there, the boats will be delivered by train to Ust-Kut, before they head down the Lena River to Tiski and along the coast to Anadyr. We'll be following the route set out by Semyon Dezhnyov [a famous Russian navigator and explorer of Siberia]."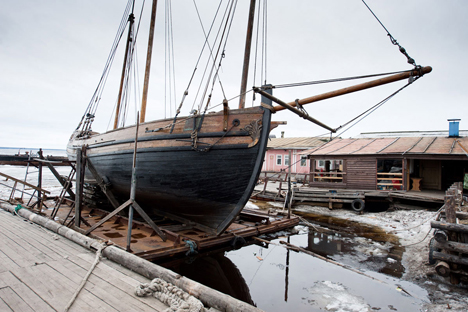 The dock at the Petrozavodsk Maritime Historical and Cultural Center. Source: Anton Agarkov
The newly built koch boat differs from its predecessors in that it has a motor – just in case it is needed. Eight people can just about squeeze into the cabin, with another four on deck. It took the shipbuilders just three months to put the ship together; it took slightly longer for the lodya.
"Right now, we're working on a prototype for a drifting station," Victor says.
"It's becoming increasingly difficult to find suitable ice flows for research stations in the Arctic. The Americans put research platforms on icebreakers. But we're building a small ship with materials that are not very magnetic, such as wood and composite materials. It'll be a mini houseboat, a floating log cabin. We're developing the kind of technology that will eventually be used in drifting stations – lightweight materials, a simplified hull shape and a lift motor."
Maritime museum
Victor revealed that the club turns into a yacht marina in the summer. "Yachting isn't particularly popular in Russia. A lot of people don't even know what it is: they think it's something that is ridiculously expensive, something for the likes of Mr. Abramovich. But that's not the case. The word 'yachting' actually comes from the Dutch and means 'a boat for recreation' – and that could mean anything from these gigantic yachts you see oligarchs in to tiny little boats," he says.
The Polar Odyssey Maritime Museum resembles a big cabin, with brigantine sails on the table and ropes hanging from poles. The walls are adorned with stands, each of which is dedicated to a particular voyage: the Northern Sea routes and the Mediterranean; the journeys to Svalbard, Canada and Alaska.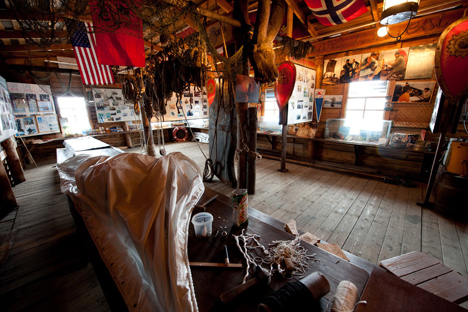 The Polar Odyssey Maritime Museum in Petrozavodsk. Source: Anton Agarkov
There are maps, photos of sailors and people from distant lands, old navigational equipment and pieces of wrecked ships – the living and growing history of the Polar Odyssey.
There is another photo, one of Boris Yeltsin. It reads: "I had a great time on the boat, taking in nature and going fishing – just like it was the first time I'd ever been sailing. A job well done by the coast dwellers. Let's set out a route for them – Peter the Great and the voyage to the North Pole. There's a need for it. I'll give you a hand! Thanks! The President of the Russian Federation."
In July 1997, Yeltsin took a tour aboard the St. Nicholas (a replica of a 17th-century trading boat) during a trip to Kizhi.
The boat traveled to the local skerries, and the president did not move from the deck, attaching worms to the fish hook so his security guard could catch perches. They managed to catch about a dozen small ones.
All aboard!
Tourists to Karelia have two enemies – mosquitoes and ticks. "You don't get either of them on water," says Victor. "But, strange as it may seem, the fleet disappears when we get to Lake Onega and Lake Ladoga.
The Comet hydrofoil only goes to Kizhi. But there a loads of islands on Karelia's lakes that are inaccessible for tourists right now. When small ships start appearing that you can rent out... Just think – a floating summer house. Take a load off, live life, sail!
"We're in the middle of setting up a new tourist program," Victor says. "It's called 'Treasure Island: Buccaneers of the Onega Sea.' We've got two ships with real working canons. There are plenty of islands in Karelia, and we'll have our base here at the marina club. We want people to be immersed in the era when filibustering was in its heyday – in the 16th and 17th centuries – with treasure hunters and pirates."
For more information: http://polar-odyssey.org
First published in Russian in Strana.ru
All rights reserved by Rossiyskaya Gazeta.