Mt Elbrus climb leaves Indian mountaineers with warm impressions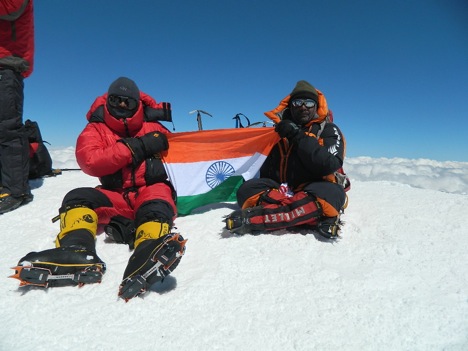 The duo plans to promote the Russian highlands in India. Source: Personal archive
The duo was impressed with the modern facilities that were available at the base camp and the relative low costs of mountaineering in Russia.
After Rajeev Saumitra, an Indian geography teacher scaled the highest peak in the world, Mount Everest, very few mountaineering challenges were left for the 41-year old. One of the lesser scaled peaks, at least for Indians, is in the Russian Caucasus. Mount Elbrus, whose peak stands at 5,642 metres above sea level, looked like the next big challenge. Saumitra invited Ameet Singh, a former businessman with eight expeditions to his credit to scale the highest peak in Europe.
The duo successfully scaled Elbrus this month, an experience that left them with many impressions. "Our life was like that of wanderers, who run around aimlessly, hunting for nothing. But after doing the Elbrus trek, we feel like we have achieved something in life," the duo say.
While India and many other nations struggle to scale the highest professional standards in mountaineering, Russia is quick to surpass the barriers of excellence. With a good setup at base camp, the Caucasus range is swiftly attracting mountain hikers from across the globe.
Source: Personal archive
"I have valid reasons to rate it (the Elbrus hike) so highly," says Saumitra. "While in India and in some other countries, the problem starts from the beginning of the trip. Forget about the summit, a lot of energy goes in thinking about ferrying necessary gadgets and items to base camp," he says recounting a less than enviable account of having to depend on porters, horses, yaks and mules to transfer their belongings. "In Russia, we were amazed to see ski-lifts and pre-fabricated hutments, among others. We can't think of having such a set up in India. Only China has such equipment. Rather, they have a road till Everest base camp and internet services, which makes everything very smooth for a hill-walker," he says.
Ameet Singh, who fell for Russia, especially the Caucasus range, says, "I want to explore it further by planning my next trip to the Altai Mountains." His idea of mountaineering is different. "I try to enjoy the spectacular views and lazing around. Maybe, it puts me in the category of soft climber, but I am happy with this tag. It's better to be in Russia and enjoy treacherous but hassle-free trekking."
Another factor that took them to Caucasus was the economics of the package. "It's not exorbitant. You get state-of-the-art facilities at nominal price," Saumitra says, adding, "the Everest climb can cost more than $50,000, whereas, Elbrus can be done in $4000 if going for a guided tour." He adds that those on shoestring budgets do the Elbrus trip for less than $1500, if they manage their own tent and cooking.
A major chunk of the money goes in procuring climbing permission in several countries, including Everest, for which Nepal takes $30,000 for an individual climber and $70,000 for a group of seven. This is just for authorization. At Elbrus, the duo paid just $300. "This included registration, permission for nature park and safety notification. The country is so tourist friendly that it did not take time for us to fall in love with the place," says Saumitra. Singh adds that there was electricity supply everywhere. "It did not stop for a single minute. It felt like a five-star trek."
Source: Personal archive
Remembering the early morning on August 1 when they started the trek, Singh says, "After acclimatizing in the pristine hills near Tresskol, we took a tough route to explore the rocky path to the base camp. The next day, we started our journey to the highest summit in Europe. By August 8, we were done with the mission. Though inclement weather is a threat while climbing Elbrus from the South, we did not encounter any problems."
After exploring the Caucasus, they enjoyed the urban life of Moscow and St Petersburg. They now plan to promote the Russian highlands in India. "We prepared a documentary when we were there. It has everything that can tell the world what this pristine land is all about," says Ameet Singh.
All rights reserved by Rossiyskaya Gazeta.