Enjoying the Christmas spirit in Moscow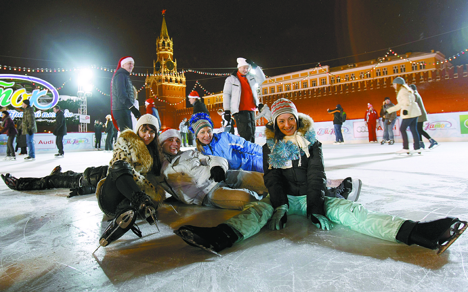 This year a record number of Christmas fairs will be held in the capital. Source: Reuters
The Russian capital is a wonderful place to spend the season of joy, with Soviet chic, gingerbread and a series of fairs.
In Russia, Christmas is marked in January under the Orthodox calendar, rather than December 25, and is not celebrated in such a big way as it is in other parts of the world. However, Moscow has a festive atmosphere: Christmas markets, gifts, cards, carols and, of course, snow. Only Santa Claus is missing, but there is Grandfather Frost or the Snow Maiden, an attractive alternative.
Festive fairs
This year a record number of Christmas fairs will be held in the capital. More than 30 fairs representing European and Russian cities in the Journey to Christmas festival will be staged on streets in the city centre. European cities including Prague, Vienna, Brussels, Riga, Copenhagen and Alsace will be among those with fairs in Moscow. Strasbourg, Europe's oldest Christmas market, will be in Moscow from December 24 to January 7 in the square in front of the Bolshoi Theatre.
There will also be many tents where you can buy traditional Russian souvenirs – Tula gingerbread, downy shawls from Orenburg and khokhloma painted wooden tableware. Nearby, you can buy a Christmas tree from while the route to neighbouring fairs can be traced with the help of the invaluable Christmas map of the city.
The popular Seasons of Life magazine will hold its third Seasons festival, a favourite with Muscovites, in the Hermitage Garden, this time in a traditional Russian style. Real carols (a rarity in the Russian capital), a Christmas bazaar, Christmas cave, caviar treats and a fair are all on the festival's two-day programme.
Traditional Russian gifts are absolute must-haves. Source: Reuters
For lovers of designer items, the Paradise Apples Christmas market will feature the work of more than 200 Russian designers and artists. Here you can buy handmade greeting cards, tree decorations, decorative angels, wooden Santa Clauses, and Christmas wreaths.
For seekers of rarities from the Soviet era, the Lambada market offers vinyl records, Christmas tree ornaments in the shape of rockets, astronauts, red stars, red plastic cones and vintage wooden skates.
Christmas delivery
Traditional Russian gifts are absolute must-haves. No one who has spent a couple of years here comes home without a rug, a tray, a pair of lapti (bast shoes), an ushanka (ear flap fur hat) or a T-shirt bearing Lenin's image.
Many Muscovites and expats prefer to leave Moscow for the holidays. If they don't go to their home country, they might head for places on the Golden Ring route, such as Yaroslavl, Kostroma, Uglich, the historical old Ryazan reserve and resorts offering special Catholic Christmas programmes.
"We are taking a family vacation in Nakhabino for the third year – there are great slopes, plenty of snow, and a forest," says Alonso, a Spanish expat who has lived in Russia for seven years. "Many foreigners who stay in Moscow for Christmas go there for the holidays.
"We celebrate every year together, even if we don't see each other during the year."
All rights reserved by Rossiyskaya Gazeta.