Sochi: A refuge for the WW2 wounded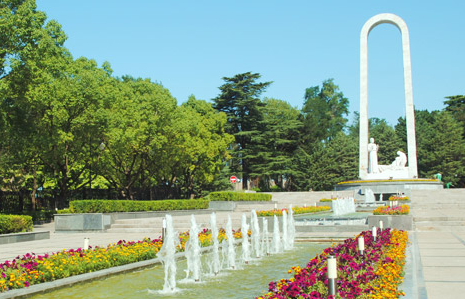 The monument to War Heroes. Source: Lori / Legion Media
Even though Sochi didn't see any action during the Second World War, more than half a million of the war wounded were treated in the resort city and the heroic deeds of residents are revered till date.
Next to the beautiful Riviera Park, which is one of Sochi's trademarks, is a monument to charity with the inscription 'A heroic deed in the name of life.' A figure of a doctor and a nurse lean over a wounded soldier. The monument is so much a part of the cultural ethos of the city that it's a tradition for newly married couples after the official marriage ceremony to lays flowers by it. This symbolises the gratitude for those who saved the city from the hardships of the war.
Reminders of the Sochi residents' civil heroic deeds can be seen on memorial plaques at the main gates of almost all the city's health centres. During the war the centres were all converted into hospitals. The city had a total of 111 hospitals and the health centres by the name of Dzerzhinsky,Metallurg, Grand Hotel and SPA Rodina and Coast were converted into temporary hospitals.
Soldiers were accepted even into the private homes, several of which were equipped with mobile hospital complexes in the Zavokzalni suburbs near Sochi. There were not always enough doctors and nurses, and Sochi residents themselves were helping the wounded. The famous slogan "Everything for the battlefront, everything for victory," was relevant in the 'non-military' Sochi as well.
The Sochi City Treasury is still preserved in the same form as citizens saw it in wartime. Once, during an air raid, a bomb hit the main cash vault. The building was heavily damaged, and money was literally scattered on the surrounding streets with bright fireworks. Sochi residents stuffed their pockets with bills, and then brought them back to the safe vault.
In Sochi, during the Great Patriotic War nearly half a million soldiers and officers were treated for battle wounds. For the city the war did not end in 1945, but a year later, when in 1946 the last soldier whose wounds had been healed, left the city.
All rights reserved by Rossiyskaya Gazeta.