A real Russian banya, a journey by sleigh, a carriage pulled by a troika of horses, swimming in icy waters, yachting on an icebreaker: these and other winter activities are possible in Moscow and its suburbs. Snow and ice not only do not disrupt these diversions, they enhance them and help reveal the glory of a real Russian winter.
Russian banya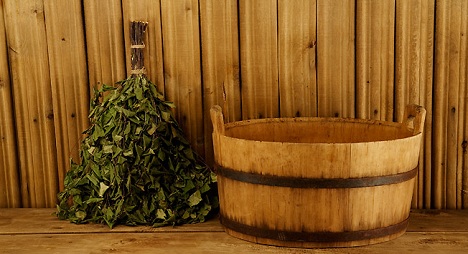 Source: Lori/Legion-Media
At first glance, the Russian banya looks like an extreme sport. Friends and strangers beat each other with branches from birch trees in a devilishly hot atmosphere. When this is finished, they run for the exit to jump into an icy-cold pool. If you're alone, you can always hire an attendant to give you a beating. It is not only a wondrous feeling (trust me), but unbelievably good for you. You get a special burst of energy after taking a steam in a Russian bathhouse, because all of the toxins have been beaten out of you. Your skin becomes clean, taut and young.
Before hitting the banya take a warm shower so that your heart and blood vessels are ready for what comes next. It's not necessary to clean yourself with soap as your skin's natural oils will keep your skin from getting too dry. Some people rub essential oils into their skin. Banya goers wear special hats to protect their hair from the steam and laying down is considered by many to be the best way to enjoy a sauna.
Many people start out their steam on the lower level where the temperature is less intense. Immediately after each turn in the steam room you should take a shower, dive in the pool or roll around in the snow. If you don't rinse yourself off, the skin will absorb the sweat and with it all the harmful substances that have oozed out of your body.
Sanduny banya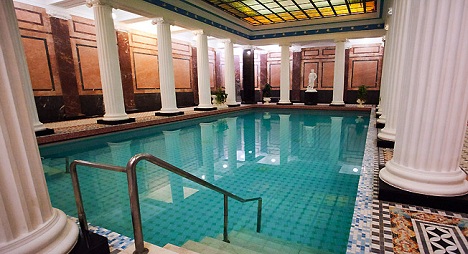 Source: RIA Novosti/Ksenia Sidorova
The Sanduny is the city's main banya complex and has been around for more than 200 years. The interiors are marvelous and better service in Moscow is hard to find. Many movies have been filmed here and tourist groups and Hollywood actors alike are among its many guests.
The staff is active on social media and offer discounts for check-ins on the Swarm app by Foursquare and subscriptions on Instagram. There are additional services available such as massages and other kinds of spa treatments, as well as a beauty salon, restaurant and a laundry. Making a reservation in advance is highly recommended.
ul. Neglinnaya 14, stroenie 3-7
Metro: Trubnaya, Kuznetsky Most
+7 (495) 625−46−31
www.sanduny.ru
Hours of operation: 8:00-22:00, closed on Tuesdays
Cost: 1,500-2,300 rubles for two hours, banya attendant 1,320 rubles (if you don't want to do the whipping yourself)
Seleznevskie banya
This Moscow bathhouse has been around since the mid-19th century. The atmosphere is authentic and the place has not been fixed up in decades, so don't be surprised if it looks a little rough around the edges. The upside is that you can find many of the finest traditions of the Soviet period in practice here (when banyas became very popular as a form of relaxation), the steam is strong and they have an enormous pool and a small cafe. Reservations are not required.
Seleznevskaya Ul. 15
Metro: Novoslobodskaya, Dostoevskaya
+7 (499) 978−94−30
www.gorodskie-bani.ru/seleznevskie-bani/
Hours of operation: 8:00-22:00, closed on Mondays
Cost: 1,500-1,750 rubles for two hours
Lefortovo banya
This is a small sauna complex with a huge pool equipped with geysers, lights and waves enhanced by walls adorned with images of old naval vessels and a bust of Peter the Great. Reservations are recommended.
Lefortovsky Val 9a
Metro: Aviamotornaya
+7 (495) 362−55−70
banya-lefortovo.ru
Hours of operation: Tuesdays-Sundays 10:00-23:00 (men), Mondays 16:00-23:00 (women)
Cost: 1,200 rubles for two hours
Sledding with a troika of horses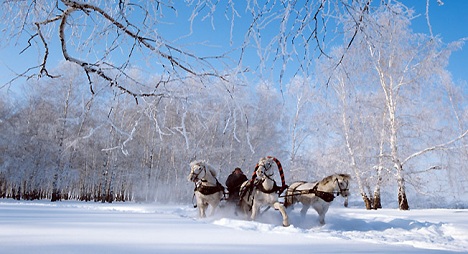 Source: TASS/Victor Sadchikov
A troika of horses pulling a sled is one of Russia's enduring symbols. Before the age of the automobile this was a popular form of transportation in Russia and they could travel up to 50 kilometers per hour. Nikolai Gogol even made a famous comparison of a speedy troika with the country on the whole: «Russia, where are you hurtling? Give an answer! There is no answer.» Every Russian school kid knows this fragment from Gogol's «Dead Souls.» Taking a sleigh ride today is a winter joy and an unforgettable pleasure.
Kolomensky Park
A ride in a horse-drawn carriage can be a part of an excursion or an art program in Kolomensky Park. Orders can be made by phone and payments must be received at least three days in advance. The horses would appreciate it if you brought them a carrot or an apple.​
Prospekt Andropova 39
Metro: Kolomenskaya
+7 (499) 615-27-68
www.mgomz.com/visitor-services/horse-riding
Yauza horse stable
If you are looking for something a little more substantial than a simple excursion and want to ride on a horse-drawn sleigh through a snowy forest, come to the Yauza horse stable. The sleigh can carry four adults or two adults and three children. Dress warmly and bring some carrots and apples for the children to feed the horses and some nuts for the squirrels.
Ul. Bogatyrsky Most 17
Metro: VdnKh, Preobrazhenskaya Ploshchad, Semenovskaya, Sokolniki, Ul. Podbelskogo
+7 (926) 535-8653 or +7(499) 268-0717
Administrative hours of operation: Tuesday-Sunday 10:00-20:00
www.koniyauza.ru/sani-ekipaj
Cost: children 200 rubles for 10 minutes, adults 300 rubles for 10 minutes, the minimum price for a sleigh ride is 1,500 rubles
Dogsledding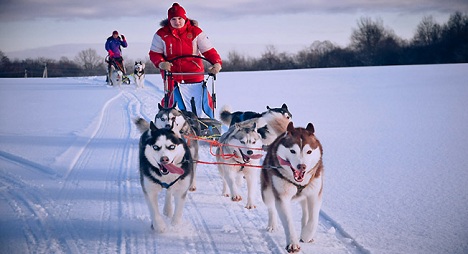 Source: Shutterstock/Legion-Media
Northern huskies are the usual dog of choice for dogsledding as they are very friendly, sociable and playful canines who simply love to run. Unlike a horse-driven sleigh, whips and reins are not necessary for motivation. The dogs are in harnesses, but figure out what to do by verbal commands, without the need for physical cues.
Husky Land
Orvlovsky Hotel Complex, Bogdanikha village, Leninsky District, Moscow Region
+7 (915) 239-64-07
www.huskyland.ru
Administrative hours of operation: 10:00-18:00
How to get there:
By car: From the MKAD take the Kashirsky shosse (highway) towards Domodedovo Airport for 4.5 kilometers, then turn onto Volodarskoe shosse (towards Molokovo), then go another 6.7 kilometers until the turn for Bogdanikha village (on the right), then another 800 meters to the Orvlovsky Hotel Complex.
By public transportation: Take the metro to Domodedovskaya station and hop on minibus No. 367. Take it to bus stop «Derevnya Bogdanikha.» Take the path through the woods about 800 meters to the Orvlovsky Hotel Complex.
Swimming in winter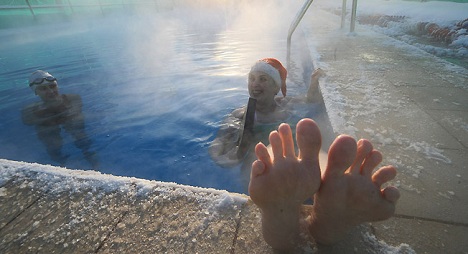 Source: TASS/Zamir Usmanov
There are three options in Moscow for communing with winter's waters. See what you're made of and take a plunge through a hole carved into the ice (often in the shape of a cross) in mid-January during the Orthodox holiday, «Kreshcheniya,» which marks the date of Jesus' baptism. Water is believed to be holy and filled with special powers on this day (January 19). Close to the holiday special places in lakes and rivers will be prepared for the occasion. Other possibilities include going to an outdoor pool or taking a winter trip on the Moscow River aboard the Radisson Hotel's yacht.
Neptune pool
Besides the Chaika pool, you can also swim here in the open winter air in Russia's largest Olympic water sports complex. This is a great place for doing water sports and the temperatures stay quite comfortable no matter the weather. In order to swim bring identification that confirms you are at least 16 years old, a swim cap and a note from your doctor attesting that you are fit to swim.
Ibragimova ul. 32
Metro: Semenovskaya, Partizanskaya
+7(499) 369 21 98 or 369 48 03
mocws.ru/otkrytyy_kompleks
Hours of operation: Monday-Friday 6:45-15:45 and 16:30-20:15, Saturday 6:45-20:15, Sunday 7:30-18:45
Price: 350 rubles for 45 minutes until 15:45 on weekdays and 400 rubles for 45 minutes after 16:30 on weekdays and all day on weekends
Radisson cruise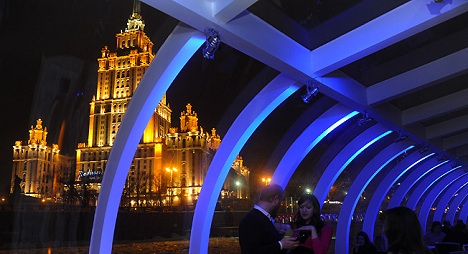 Source: TASS/Sergei Fadeichev
Take a cruise down the Moscow River from the Radisson pier at Gorky Park (or across the river at the Ukraine Hotel) on a ultra-modern yacht with an entertainment program and dinner service (not included in admission). This luxury vessel cruises through the ice and takes its passengers past many of Moscow's major sights including Novodevichy Monastery, Moscow State University, Luzhniki Stadium, Christ the Savior Cathedral and the Kremlin. Passengers can listen to an audio excursion (in English or Russian) by downloading an app on their i-Phone or on an MP3 player available onboard. The yachts set sail practically every half hour from one of the two piers.
Pushkinskaya naberezhnaya
Metro: Park kultury or Oktyabrskaya
+7(495) 228 55 55
www.radisson-cruise.ru
Cost: 900 rubles for adults, 650 rubles for children from 6-12 or free for children under six if sitting on an adults' lap.
All rights reserved by Rossiyskaya Gazeta.