Scared of flying? Try Sochi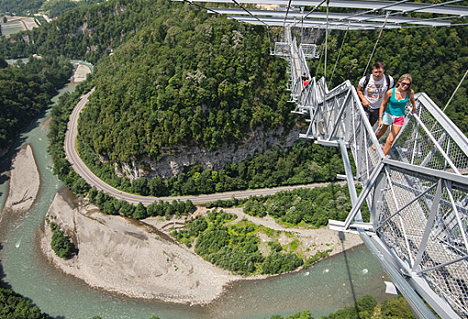 Take it to the extreme: bungee jumping and other activities that'll take your breath away in Sochi. Source: RIA Novosti/Mikhail Mokrushin
For all those scared of heights and being adventurous, Sochi is the place to go to get rid of your fears, anger and regrets. A guide to how best to overcome those nagging fears.
Probably the most effective way to overcome phobias or even rational fears of flying or drowning is to safely live through such an experience. For the author, Sochi turned out to be where he managed to effectively live through his negative emotions and blow off steam.
New Zealand's master of extremes
AJ Hackett, a young construction worker from New Zealand, discovered one of the safest, most strange and cool ways to stimulate one's senses and set the nerves on edge back in the 1980s.
At Sochi Skypark I learnt how Hackett's passion for extreme sports became the goal of his career after he discovered an island ritual in Trinidad.
In the West Indian island, Hackett saw that local men tied long vines to their feet and dived, head first, from 35-meter high wooden towers. The islanders believed, since ancient times, that such fearless jumps would bring luck through bumper crops of sweet potatoes, the staple produce.
After his first dive, almost 30 years ago, Hackett wanted others to experience the exhilaration he had felt. He turned for help to the Department of Science and Industrial Research in New Zealand, where he got assistance in inventing a mathematical formula and producing a durable and safe rubber rope that would adequately bear the stress of the dive, from bridges and great heights. There are now eight parks in the world, including at Sochi, that feature Hackett's brand.
Extreme Skypark in Sochi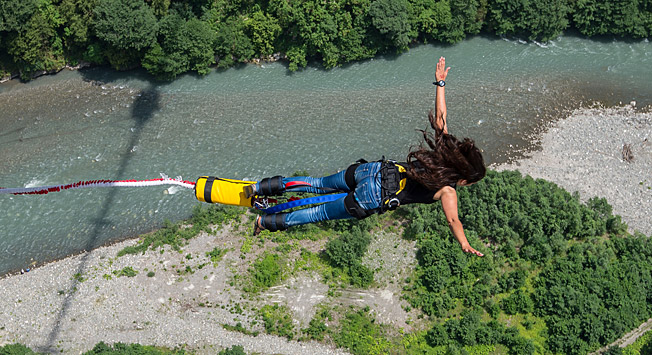 Source: RIA Novosti/Mikhail Mokrushin
Skypark AJ Hackett opened in Sochi, Russia a couple of years ago. It is located in Akhshtyr Gorge in the Mzymta River valley on the way to Krasnaya Polyana in the midst of an old-growth forest. Here you can find buxus colchica (aka Colchian boxwood), jasmine and rhododendrons.
The central place in the park is occupied by a 439-meter long Skybridge – the longest suspension walking bridge in the world. The first thing I did was take a thrilling walk across this structure. At a height of 207 meters above sea level I saw the Caucasus Mountains on one side and the Black Sea coast on the other side. I felt my anxiety gradually giving way to delight.
I did not go in for the real adrenaline buzz. However, I did find out that the highest swing in the world, SochiSwing (170 meters), is one of the highest bungies in the world and that the MegaTrollattraction, which allows participants to achieve speeds of up to 150 kilometers per hour, are all located in Skypark.
With my own eyes I saw a man who decided to jump from one of the world's highest bungies at a height of 207 meters. At first he looked prepared and serious; he told everyone that he would not get scared or scream. But when he, meticulously tied by all possible types of dynamic ropes available, stumbled down like a rock falling out of the sky, even I just being a spectator, stopped breathing for a second. The man screamed. And I am sure that all of his negative emotions came out through this scream, because when he was lifted back up he looked happy and enlightened.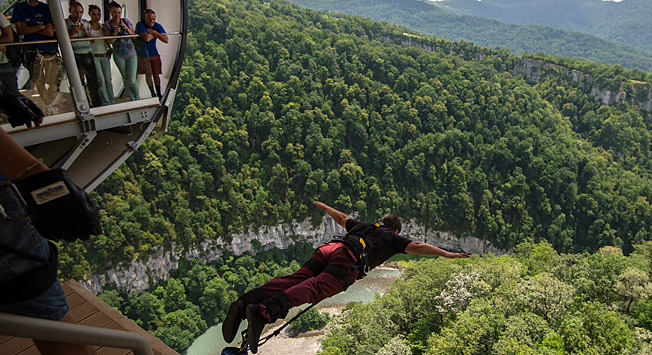 Source: RIA Novosti/Mikhail Mokrushin
The Liana Cave leads to a via ferrata (protected climbing route equipped with steel cables that runs along the route and is periodically fixed to the rock) designed to help those that are not into wild jumps above mountain gorges. Apart from thrilling gigantic attractions, there are many other pleasant places inSkypark, such as the Mowgli adventure park, an interactive museum of international bungee jumping, an 18-meter high rock-climbing wall that is 1200 square meters in area, sightseeing platforms with a great view of the sea and mountains and a restaurant on the edge of a canyon.
You can enjoy other extreme sports in Sochi, such as kitesurfing, diving, canyoning, rock-climbing, speleo hiking and riding around in jeeps. Other ways to get an adrenaline rush at sea include windsurfing, wakeboarding or classic surfing.
If you need help planning your trip to Skypark or organizing other kinds of extreme entertainment, you can contact Southern Comfort - Tours to South of Russia, the leading travel company for international travelers in the south of Russia.
All rights reserved by Rossiyskaya Gazeta.