Guide of great gifts for Christmas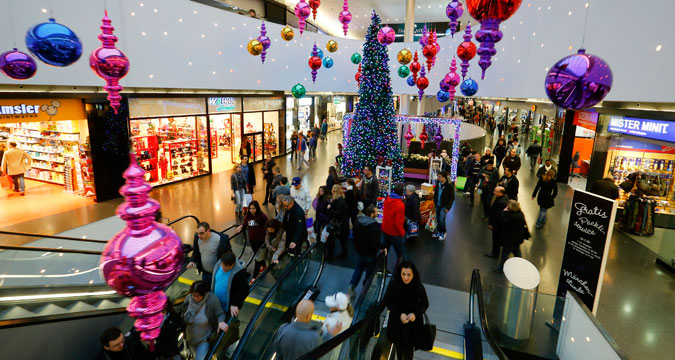 Shoppers walk under Christmas decorations at the Sihlcity shopping mall during a special Sunday sale in Zurich December 22, 2013
Reuters
A trip to Russia for the winter holidays would be among the most charming gifts you could expect. Apart from experiencing the magnificent Russian winter first hand, and the unforgettable adventure, charming souvenirs would be reminders of the sojourn.
Russian holiday shopping guide
While any trip to Russia is exciting in itself, searching for holiday presents for loved ones can be equally rewarding. Returning home with a handful of exquisite surprises is not difficult when returning from Russia. Quaint, beautiful and eccentric arts and crafts, created by the centuries-old traditions of different parts of the country, are enormous in variety and provide numerous options to choose from.
Hunting for authentic presents from the Urals
If visiting Russia's regions like the Urals, be sure to acquire a gorgeous shawl adorned with traditional flower designs. The shawls and scarves (called "platki" in Russian) are recognized the world over for their beautiful and colourful patterns. Equally important, they are known for their high quality and ability to retain warmth. The white or grey Orenburg hand-knit shawls made of hand-spun silk and wool yarn are also a must-have item for many fashionistas, and are among the symbols that represent the country.

Source: Lori/Legion-Media
Linen tablecloths, dish-cloths and napkins with national ornamental embroidery are always a good idea for a present. The natural fabrics are made of flax and enriched with fine needlework, making them an elegant and attractive addition to any kitchen.
Where to buy:
In Orenburg shawls can be bought in specialized factory stores where they are produced or in Zeleny market. Many other interesting things can also be found in this bazaar. If you're looking for more modern versions of Russian platki and shawls, check the "Uralvagonzavod" (Ural Vehicle Factory).
Picking out exquisite gifts from the Golden Ring
Absolute must-buys in Russia's Golden Ring towns are authentic handicrafts and tableware with Russian "khokhloma," or intricate designs created by skilled craftsmen using a centuries-old technique of painting wood. Unique handmade spoons, bowls, cutting boards, jewellery boxes, mini-balalaikas and even matryoshka dolls embellished with red, gold and black ornaments would add decorative charm to any home.

Source: Shutterstock/Legion-Media
"Gzhel" ceramics are another craft item worth purchasing. These porcelain objects and pottery are manually covered with white and blue patterns making each piece a one-of-a-kind item. Whistles, candlesticks and statuettes are a good Christmas gift option.
Among items made of straw a pair of adorable mini-"lapti" would be a nice choice. This traditional Russian footwear has existed since ancient times and genuine "lapti" bast shoes were traditionally woven in a similar manner as baskets.


Source: Lori/Legion-Media
Where to buy:
The best place to hunt for gifts in the Golden Ring towns are local bazaars and markets. For example, in Kostroma you can visit the Torgovye ryady market, which is also an 18th century architectural monument. Souvenirs can also be purchased directly from local craftsmen.
Shopping for gifts in Russia's two capitals


Source: Alamy/Legion-Media
The residents of Russia's two bustling capitals take pride in their culture and ornamental legacy. This cosmopolitan flavor combined with the country's heritage can be seen in many modern accessories on sale, such as an i-Phone case or computer mouse pad decorated with a traditional Russian pattern.
If you have ample luggage space, you might consider purchasing a samovar, a large traditional metal tea kettle used to boil water. The workmanship is a bit more modern now and operates similarly to an electric boiler and has a plug. A teacup set and silver-plated "podstakannik" teacup holders or coasters made of juniper complete the Russian-style tea set perfectly.
Of course, jewelry is always a good idea. Pick up a pair of earrings, a bracelet or necklace made from fine semi-precious stones such honey amber in sterling silver - a favorite combination of the Russian tsars. Last, but not least is the Faberge egg. The replicas produced in St. Petersburg are inspired by the works of the great master and adorned with precious metals and stones. Mini-Faberge eggs can be put on a pendant for a necklace or worn as extravagant earrings.
Where to buy:
In Moscow GUM features a wide variety of souvenir shops offering different goods. In St. Petersburg most major souvenir shopping locations are near Nevsky Prospect and Palace Square. Several really nice shops can be found at the intersection of Nevsky and Mikhailovskaya ul. or right next to the Church of the Savior on Spilled Blood. There are also some souvenir shops near Teatralnaya pl. near the Mariinsky Theater. All of them offer a good selection.
All rights reserved by Rossiyskaya Gazeta.