How to love the Russian Winter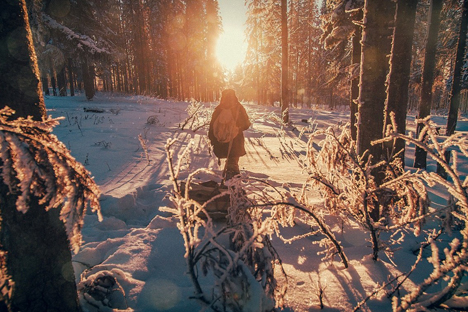 You haven't seen Russia until you've seen it in winter.
Dmitriy Rokozhkin
Russia is popularly associated across the world as a land of frigid winters; with people wearing fur coats, 'shapka-ushanka' hats and 'valenki' felt boots struggling through impassable snow-covered roads. Yet there is so much more to the Russian winter, to discover and love.
Russian winters are the stuff of fairytales and one can fall in love at first sight. It is the most adventurous time of year to make enriching cultural discoveries and create enough memories to last a whole lifetime.
Witness the best Northern Lights displays in Khatanga village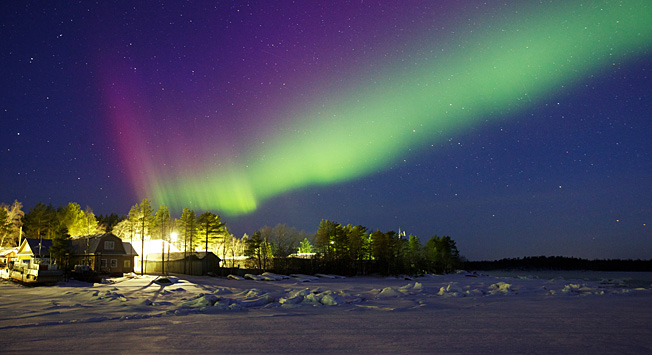 Source: Lori/Legion-Media
Actually seeing the natural phenomenon of the 'Aurora Borealis' is a memory designed to last a lifetime. While there are many spots in the world to catch this kaleidoscope of colours in the sky, very few people know that the best 'display' is found in the small village of Khatanga in northern Krasnoyarsk. Among the country's northernmost human settlements, Khatanga's latitude makes it favourable for nature's most unforgettable light show. For adventure seekers, the thrill is manifold, as reaching Khatanga is an adventure in itself. The best time of year to see the night sky's colourful decorations is December and January, when the sky experiences the most activity.
Experience a traditional banya and tea ceremony in Sochi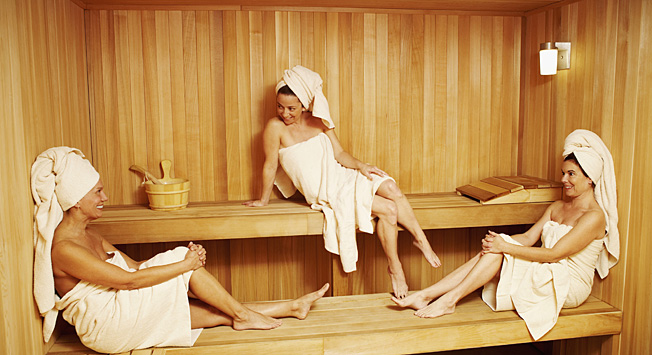 Source: Lori/Legion-Media
Since time immemorial, Russian 'banyas' (like saunas) are believed to contain healing properties and are still a popular activity among locals. The unique atmosphere in traditional Russian banyas owes much to the natural logs used to reach the necessary temperature in the "parilka" steam room. The room fills with the pleasant natural scent of wood and water from buckets is continuously poured over smouldering rocks, enveloping the room with a dense, dry steam. Don't skip the ritual flogging with white birch or oak tree branches soaked in hot water. A visit to the 'parilka' is followed by another exciting ritual: running from the steam room and jumping into the adjacent snow banks, although some prefer to take a simple dip in a cold pool. Sochi's Krasnaya Polyana ski resort offers visitors the best winter banya experience, inviting guests to a traditional tea ceremony after a steam to drink handpicked tea with a picturesque mountain view.
Ride through the Urals in a horse-drawn sleigh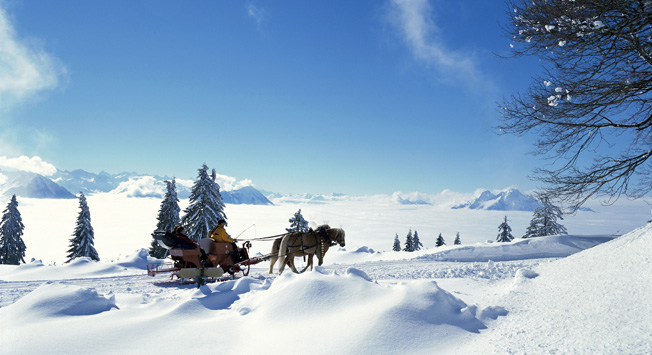 Source: Alamy/Legion-Media
The southern Urals is among the finest regions in Russia for a winter holiday. Encompassing vast valleys and covered with a glimmering blanket of crystal-white snow, the Urals are renowned for their breathtaking horse-sledding journeys. Sleighs harnessed with robust stallions pass through the snowy ridges of Kraka-Tauand the Bashkir National Reserve, revealing views of Russian plains, stunning natural scenes and traditional architecture. These trips can last up to seven days and include staying in an "izba" (log hut), preparing dinner in traditional Russian "pechka" ovens and tasting natural honey. Optional activities include hiking to a holy spring, snow tubing and horseback riding.
Join the Birth of the Sun celebration in Kazan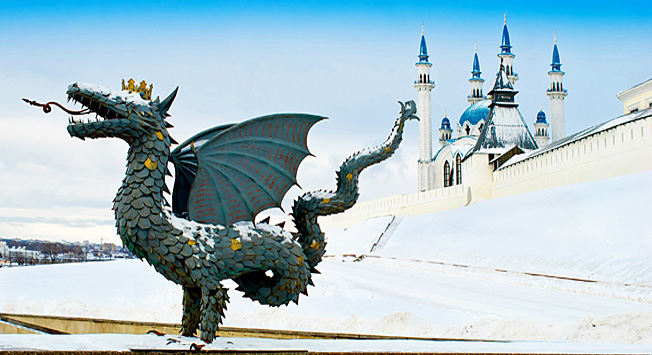 Source: Shutterstock/Legion-Media
The multiethnic Kazan region in Russia is renowned for its annual celebration of Nardugan, a centuries-old pagan holiday honoring the winter solstice. According to the ancient Tatar calendar the Sun's birthday is on December 22nd, when the days begin to get longer. The festive weeklong celebration starts on this day and symbolizes the awakening of nature and the triumph of life. During this week locals bake pastries, tell fortunes using rings and put on theatrical performances. The door-to-door traditions of this celebration are also quite festive: adults and children dress up in costumes and masks and stop at neighbor's houses. They dance and sing songs accompanied by harmonicas and wish people health, wealth and happiness.
See unique ice grottos and caves on Lake Baikal


Source: Lori/Legion-Media​
Lake Baikal is the world's deepest lake and remains a real mystery. Despite its enormous size it freezes completely and its meter-thick ice remains crystal clear, making a jeep-ride atop Baikal a must-do experience. The areas not covered by snow are a real wonder: the incredible topaz-blue ice reveals the beauty of the underwater world providing travellers with the opportunity to look at its depths as if through glass. Other works of art created by nature include the "splash-spills" formed by the lake's splashing waves, which freeze while trickling down the massive rocks on the shore. The splash-spills can be up to 10 square meters in size often hiding caves and ice grottos accessible only in winter. Another treasure of the region is Olkhon Island, a sacred shaman territory that supposedly emits positive energy and power.
Russian winters are what fairytales are made of and one can fall in love at first sight. It is the most adventurous time of year for making enriching cultural discoveries and creating memories to last a lifetime.
All rights reserved by Rossiyskaya Gazeta.