7 interesting facts about the Silk Road rally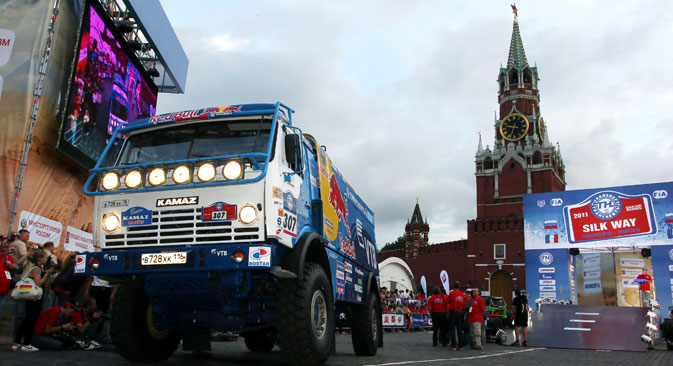 Russia. Moscow. July 10. The truck "KAMAZ" (№ 307) of the Russian team "KAMAZ-Master" at the opening ceremony of the rally-raid "Silk Road - 2011" in Red Square.
Alexei Nasyrov/TASS
The rally starts in July 2016 on Moscow's Red Square and ends in Beijing
1. The 10,000-kilometer route will pass through the Central Russian plains, Ustyurt in Kazakhstan and sands of Takla Makan in China.
Source: Alexei Nasyrov/TASS
2. The KAMAZ-master team is testing a new trendy truck with a large bonnet. One of the crews may ride in such a truck.
3. Hannah Jones, star of the TV series America's Next Top Model, is a model for the rally's official calendar.
Source: AP
4. A presentation video of the Silk Road rally was made by famous Russian film director Fyodor Bondarchuk.
Source: YouTube/ Макс Лещенко
5. Star drivers such as Nani Roma, Stephane Peterhansel, Carlos Sainz and the legendary Sebastien Loeb may take part in the race. 15 teams will take part in the rally.
Source: Reuters
6. Gazprom will sponsor the annual rally for the next 3 years. "The Silk Road rally will be a shining symbol of the strategic partnership between Russia and China," says Gazprom Chairman Alexey Miller.
Source: Gazprom
7. The participants of the 2-week rally will only be entitled to one day of rest. This race tests both skills and endurance.
All rights reserved by Rossiyskaya Gazeta.