Conversations with Russian conservatives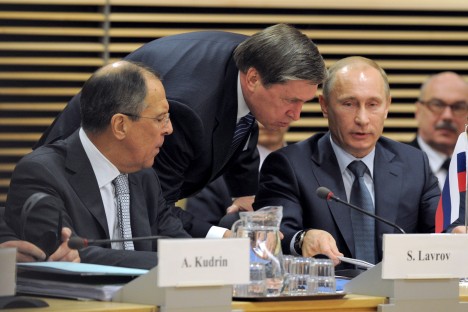 Conservative Russians firmly stand behind Vladimir Putin . Source: Kommersant
In this two-part series, Ajay Kamalakaran engages with Russians on both sides of the great political divide.
Vitaly, whose name I don't have to hide, is an unabashed supporter of Vladimir Putin. "He is the rock of our country and the best leader we have had since Peter the Great," the executive with a state-run energy firm says. Before any of you assume that the 28-year old was born and raised in some distant region, I would like to clarify that Vitaly is from the bastion of West-leaning liberals: St Petersburg.
The young man is conservative when it comes to political and religious thoughts but remains open-minded in many ways. He's travelled across Asia and gone out of his way to immerse himself in local cultures as is visible from his collection of photos. "Many countries have rallied their citizens around religion and this identity leads to a united purpose," he says citing the example of Malaysia, which insists on all ethnic Malays being Muslims. "So if the federal government insists that all Slavic people in the country embrace the Orthodox faith, Russia will become a truly prosperous country," I ask with a tinge of irony. Vitaly responds by saying that all Russians should voluntarily embrace the Orthodox faith and reject western "evils" like drugs and homosexuality. "Russia became a great power in the 19th century because of the Orthodox faith," Vitaly insists.
Lyudmila, also a follower of the Orthodox faith, thinks religion is a matter of personal choice and keeps a Ganesha statue both at home and at work. When it comes to politics though, she is firm that the present government acts only in Russia's best interests. "Russia would be a mess without Putin," she says recalling the 1990s. "Growing up in Voronezh in the 1990s, I remember being scared to go out of the house evening in broad daylight," Lyudmila says. "My parents worked for a government enterprise and weren't paid their salaries for months in a row...Does that happen now?"
Lyudmila and Vitaly insist that a country can only progress if it has a strong leader who rules with an iron fist. When I asked both of them if they were hinting that President Putin is a dictator, they replied in the negative. I heard all about Russians needing powerful leaders like some of the great Czars. "Let's make our country powerful and all else will fall into place," Vitaly said.
Anna is another Russian friend of mine who supports Putin, despite "leaning westwards in thought" and living in Europe. She says that there really is no one else who is capable of having such writ in a country full of what she describes as "people seriously lacking any discipline." She agrees with the views that the type of chaos witnessed in the Yeltsin era can return to Russia if there isn't a strong leader at the helm. She hits out at the liberals who find fault in everything the president does. "These people accept blindly the views of the American media...They call themselves enlightened and still can't think for themselves." She insists that so-called free and fair media of the West is more biased than the Russian state-run television channels.
After calming down, Anna makes a statement that is accepted by a large section of Russian society: "The government is a reflection of the people of a country. We get exactly what we deserve."

Putin and the Indian Youth
Vladimir Putin is very popular among the youth of India for the very same reasons that he is adored by my conservative Russian friends. Many among "young India" are frustrated with what they consider a weak and powerless prime minister.
Besides a slew of tasteless comments that usually accompany a picture of Manmohan Singh and Putin on RIR's Facebook fan page, there are the odd suggestions that the Russian president teach the Indian prime minister judo! If there's one country where Putin's well-publicised displays of bravado have helped improve his fan following, it's India.
All rights reserved by Rossiyskaya Gazeta.