Reintroduction of capital punishment in Russia would be retrograde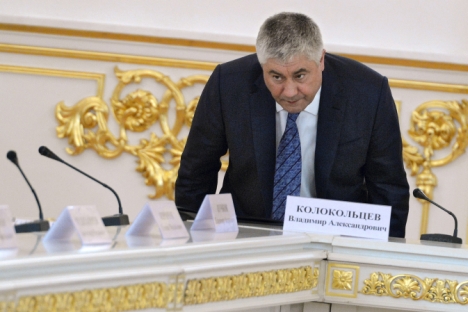 Russian Interior Minister Vladimir Kolokoltsev: "I may incur anger from opponents of the death penalty. But as a citizen, not as a minister, I don't think it would be wrong to exercise this punishment for such criminals." Source: Kommersant
India, the land of Mahatma Gandhi, should follow Russia's example and introduce a moratorium on the death penalty.
It was a mere coincidence that on the day when people in India were bursting firecrackers over the execution of Afzal Guru, (one of the conspirators of the 2002 attack on India's parliament) a senior Russian minister said in his personal capacity that he supports the death penalty. "I may incur anger from opponents of the death penalty. But as a citizen, not as a minister, I don't think it would be wrong to exercise this punishment for such criminals," Russian Interior Minister Vladimir Kolokoltsev said in a television interview, when referring to murders of girls in Tatarstan and the Irkutsk region.
Kolokoltsev's comments have led to heated debates in Russia over whether the country should lift the moratorium on capital punishment, which was imposed by Boris Yeltsin. Much like India, Russia is a country where passions run high and can easily be ignited by a media that has too much power to influence popular sentiment.
Those supporting the death penalty in both countries insist that life imprisonment isn't enough for the most heinous of crimes. In Russia, the argument I have heard often is that the state and the people by default shouldn't subsidise an easy existence. Life in a Russian penal colony is anything but comfortable and human rights organisations have often claimed that inmates are subject to the worst kind of torturous routines.
Many Indians, while at least agreeing that prisons in the country are in a deplorable state, believe that hardened criminals adjust to the appalling conditions and don't regret their crimes. The fact is that it is far worse for a criminal to spend 30 or 40 years in a prison than to take the easy way out in the form of an execution. While the families and loved ones of victims of crime will spend years in mourning, the death penalty essentially offers a way for criminals to escape a punishing routine to last out their existence. The worst criminals are spared the anguish of rotting in a dingy, smelly, dark, disease-infested prison for decades.
Then there is the grave danger of capital punishment being misused by regimes in the future to settle scores or make examples. Even worse is when a person is falsely convicted for a crime that he or she did not commit. No legal system is fool-proof and a life lost is lost forever. If Czar Alexander II didn't change his mind in the last second, the world would have lost one of the greatest writers of all time in Fyodor Dostoyevsky.
India has had its share of falsely convicted people getting executed. It's despicable that there are 476 convicts on death row at the moment in the land of the Buddha and Mahatma Gandhi! India will never be considered a civilized country as long as the "educated class" call out for blood on the streets and when many citizens publicly celebrate the executions of criminals.
Boris Yeltsin was one of the most controversial figures in Russian history, but his imposition of a moratorium on the death penalty was one of the most enlightened decisions ever made by any leader in the country. The moratorium firmly moved Russia in the direction of the European family of nations. Since a large number of Russians consider themselves Europeans, it's only fair they stand by core European values, of which the respect for life is fundamental. It would be a retrograde step for Russia to even reconsider imposing capital punishment again, no matter what the circumstances.
Tailpiece: Those that argue that capital punishment is a deterrent to terrorism would be well-advised to remember that the Chechen 'Black Widows' and the 26-11 terrorists weren't the least bit afraid of dying before they killed scores of people in Moscow and Mumbai.
All rights reserved by Rossiyskaya Gazeta.