I would like to extend my most sincere congratulations to the women of the world on International Women's Day.
As Secretary Kerry wrote on this occasion, "the world's most pressing economic, social and political problems simply cannot be solved without the full participation of women … No country can get ahead if it leaves half of its people behind.
This is why the United States believes gender equality is critical to our shared goals of prosperity, stability, and peace, and why investing in women and girls worldwide is critical to advancing U.S. foreign policy … Today, International Women's Day, is a day of celebration.
International Women's Day in Spaso House, Moscow residence of U.S. Ambassador to Russia Michael McFaul. Source: Youtube / usembassyru
It is also a day when each of us must recommit to ending the inequality that prevents progress in every corner of the globe. We can and we must commit to this so that each of our daughters can ride the bus to school without fear, all of our sisters can fulfill their tremendous potential, and every woman and girl can live up to her full potential."
It was a great honor and pleasure for me to host a reception at Spaso House to celebrate International Women's Day.
On March 5 (a little early) my wife Donna and I welcomed women from the world of government, science, culture, education, media, business and civil society.
It was a fantastic event!
Donna, who for many years worked to defend the rights of victims of domestic violence, and now works for a non-profit called Momsring, gave a speech that made me cry. And a Bolshoi opera singer, Svetlana Kasyan, performed a mini-concert that simply amazed everyone. Two strong, inspiring women. I thank them both!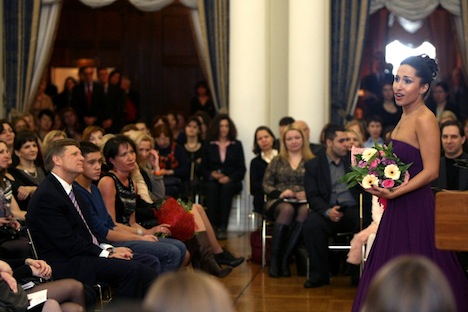 Bolshoi opera singer Svetlana Kasyan performing in Spaso House. Source: Courtesy of U.S. Embassy in Moscow
Below you will find photos and a video from the event, as well as the text of my remarks that evening.
Thank you all for coming to celebrate International Women's Day here at Spaso House tonight.
It is great to see so many women at Spaso! International Women's Day is a day to remember and acknowledge that societies benefit most when women are empowered to contribute their many talents in all spheres of life. But it is also a day to honor those individual women who have played a special role in all of our lives.
And I am honored to now introduce to you one most special woman in my life – Donna Norton.
I am deeply grateful for the love, help, and inspiration that Donna to gives to me every day as wife, and to our 2 sons as a mother.
But I am also very proud of all that Donna has done and continues to do to help women advance and prosper in my country. For over a decade, Donna worked to stop domestic violence. For years, she stood with battered women in the courtroom, helping to defend their rights and make them safer.
Later, at the Family Violence Prevention Fund, she was part of a very successful civil society movement that helped to reduce rates of domestic violence dramatically.
More recently, she helped to start MomsRising, an NGO with more than a million mom members who advocate for children's health and women's rights in the U.S.
I can think of no one I would rather have as our honored speaker for International Women's Day than Donna Norton. Donna and her work with Mom's Rising embody the reason why we're here celebrating tonight: to celebrate the achievements made by women.
So ladies and gentleman Donna Norton!
Donna's remarks: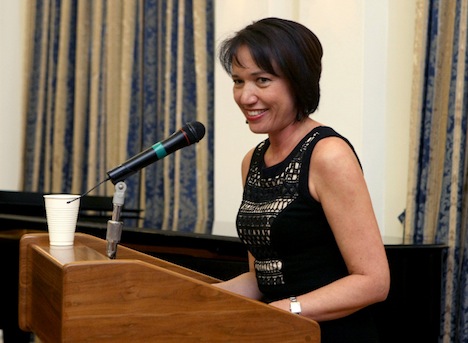 Donna Norton. Source: Courtesy of U.S. Embassy in Moscow
As Michael said, I've always worked on women's issues and I'm very happy to see so many amazing women here today.
I want to say a big thank you to my husband for almost thirty years together. It's not easy to live with someone who is always fighting for women's rights.
Some of you have brought someone here here today who inspires you, and in my life there have been many women who have inspired me. But I will talk about just one of them, my mother.
She was born in China . It was the tradition of her community in China to kill the third born daughter. Raising more than two daughters was very expensive and my mother was the third daughter in her family. But my grandmother and grandfather believed in the equality of girls and boys and her life was spared.
Little did they know that my mother would get a job at the U.S. embassy in Hong Kong and be the first in her family to immigrate to the U.S. And little did they know that their granddaughter, me, would help to start one of the largest and fastest growing women's organizations in the U.S.
My mother taught me that strong women can achieve anything. And in the work of women both here and in the U.S., I've seen this to be true. Thank you and Happy International Women's Day.
And now for a special "gift" to all of you on international women's day, I want to introduce our very special guest, Svetlana Kasyan. Svetlana is a soprano with the Bolshoi Young Singers Academy. She made her debut at the Bolshoi in the role as Kupava in Rimsky-Korsakov's The Snow Maiden.
She has represented Russia in numerous international opera festivals and on the world stage. Donna and I had the opportunity to hear her sing recently at the Moscow State Conservatory and were simply amazed at her talent! Tonight she will perform three arias for us. Ladies and gentlemen, Svetlana Kasyan.
First published in Michael Mcfaul's LiveJournal blog. Read the original.
Michael Mcfaul is the U.S. Ambassador in Russia.
All rights reserved by Rossiyskaya Gazeta.