Trains to the East: A two-minute stop on Trans-Siberian Highway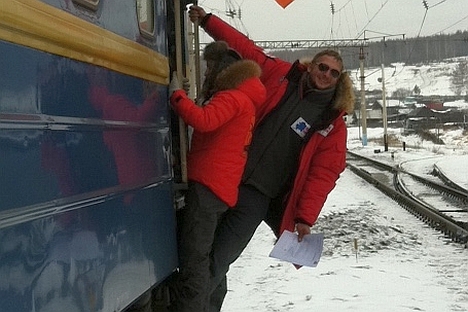 Artem Zagorodnov: "In the morning we visited a few more schools before arriving in the village of Urusha to catch the 14:00 stop of the organizers' train heading to Khabarovsk." Source: Artem Zagorodnov
RBTH's Artem Zagorodnov continues to share his off-road adventures during the Expedition Trophy race.
March 6, 2013: The long, long road to Khabarovsk
Yesterday we began a 2000 kilometer trek between the Far East cities of Chita and Khabarovsk.
For centuries the route had lacked a real road connection, thereby splitting off Russia's Far East from the rest of the country's road network (the missing link happened to roughly parallel the route of the Chinese Great Wall down south).
All of this changed when Putin announced the completion of the Trans-Siberian Highway in 2010 and famously drove across the previously missing link in a homemade Lada Kalina. Whenever we cross a rough or bumpy patch, the team immediately remarks: "This part Putin didn't cross." Overall, however, there have been few complaints.
In the morning we visited a few more schools before arriving in the village of Urusha to catch the 14:00 stop of the organizers' train heading to Khabarovsk.
This was our "mobile target" hit for the day and we managed to get the necessary stamp from the organizers during the two minute stop.
Continuing the long, long haul to Khabarovsk now. We plan to arrive tomorrow. More then.
All rights reserved by Rossiyskaya Gazeta.