To make BRICS work, encourage greater people-to-people contact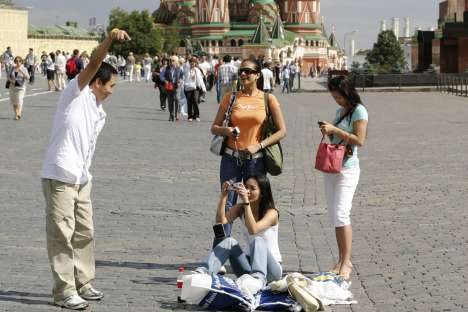 The leaders of BRICS should actively work out a mechanism that encourages student exchanges and facilitates tourism and easier travel between the countries. Photo: Photoshot/Vostock-photo
Easier travel between member countries would help dispel stereotypes and suspicions held by many common people in the BRICS.
When Russia spelt out its BRICS objectives it was clear that Moscow enjoyed the enviable position of having the best bilateral relationships with all the other members of this odd grouping, yet how much do ordinary Russians know about the other member countries? Diverse nations from four continents are linked in BRICS but even in this globalized world, citizens of the grouping have little interaction with each other and still harbour stereotypes and even suspicions about fellow member countries.
With Brazil being as far away as it is, ordinary people in other member countries know little about the Latin American giant besides football and the Amazon forests. In fact, a lot of information that reaches India about Brazil is through western publications. Many Brazilian visitors fume when middle-aged Indians talk about how much they loved the 1980s film "Blame it on Rio." Of course, any self-respecting Bombayite would be equally angry about the city being associated with "Slumdog Millionaire."
The media in Russia and India continue to irresponsibly encourage a China-phobia. Despite official and unofficial figures proving the contrary, many in the Russian Far East are convinced that China has sinister designs on Russian territory through a demographic invasion. Fear-mongering when it comes to China has become a national pastime on India's private television news channels. If one were to believe these dubious reports in Russian papers or Indian television, it would be easy to assume that China plans to swallow up parts of Russia and India. Of course, it's obvious that there are those external elements that would directly benefit from hostilities between China and its northern and southern neighbours.
A few weeks ago at Beijing's Forbidden City, I met an Indian tourist, who was surprised with the hospitality and friendliness of the locals. "They don't consider us an enemy and most people have either not heard of or have trivialized the 1962 war," the tourist from Delhi told me. There are many similar stories of Russians who have visited China and understood that they were mistaken about previously-held stereotypes or beliefs.
Similarly, there is a real fear when it comes to visiting South Africa, the host of the BRICS summit, which kicks off on Tuesday. I personally know of a Chinese couple who spent their honeymoon in South Africa and never felt unsafe in the country. Of course, they didn't walk around drunk on the streets of Johannesburg at 11 pm. It's not just violent crime that people associate South Africa with; there's the ugly legacy of racism. Just like images of the Soviet Union are etched on the minds of many when thinking of Russia, quite a few people still see South Africa through the prism of apartheid. When a South African friend complained about being asked too many times about apartheid in India, I suggested that he use the opportunity to clear his doubts about the Caste System in rural parts of the country. This suggestion seemed to work and his conversations increasingly turned to cricket!
For the BRICS to be an effective body in the 21st century, the leaders should actively work out a mechanism that encourages student exchanges and facilitates tourism and easier travel between the countries. It's only when citizens of the grouping start visiting the other countries more regularly will there be a greater meaning for BRICS as a unit. Tourism and travel for business has a great way of dispelling stereotypes and bringing people closer. Without a more integrated populace, BRICS will remain nothing but an odd grouping, whose leaders meet once a year and make ambitious proclamations that are rarely followed upon.
All rights reserved by Rossiyskaya Gazeta.