The Iron Lady and the Iron Curtain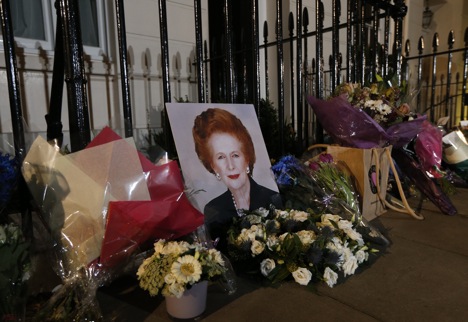 The world is paying homage to Margaret Thatcher. Source: AP
Margaret Thatcher left behind a mixed legacy and Russia had a complex relationship with the strong-minded British prime minister.
As the world remembers the Iron Lady, few will dispute the sheer greatness of Margaret Thatcher, easily one of the most outstanding individuals of the 20th century. She did leave behind a mixed legacy and Russia had a complex relationship with the woman who was first dubbed the "Iron Lady" by the Red Star, a Soviet Defence Ministry magazine. Thatcher's rise to power in the UK was in many ways a setback to Soviet propagandists the way Barack Obama's sensational victory in the US presidential elections in 2008 was for those that loved to beat America with the racism stick. The USSR prided itself on the women's empowerment and the fact that Britain never had a lady prime minister was a matter of private glee for many on this side of the Iron Curtain. The Soviet Union loved Indira Gandhi and it was easy to tell the world that a developing country, and that too a former English colony arguably under the Soviet sphere of influence, had a strong woman as prime minister. There is a long list of Thatcher-admirers in Russia. Her tough-talk against the Soviets obviously inspired a pro-democracy movement and even years after the collapse of the USSR, Russian leaders were no doubt inspired by her tough pro-market economic reforms. "Margaret Thatcher was an outstanding politician," Russian Prime Minister Dmitri Medvedev said. "Her political views invited varied opinions but her political will commanded respect." There were also words of respect paid by Vladimir Putin, who is currently in Germany. Obituaries praising Thatcher for playing a vital role in bringing about the end of the Cold War are a bit far-fetched. If anything, the Iron Lady set a trend for Britain to become America's global lieutenant. A sad state of affairs for a country that once had the largest empire in history! To her credit, Thatcher probably did realise that Britain was just another has-been and pushed the "mother country" closer to the "child." We all know how subsequent British prime ministers went out of their way, including almost ignoring public opinion, to take an American-dictated stance on foreign affairs. It goes without say that Mikhail Gorbachev is Thatcher's greatest Russian admirer. They did get off on the wrong foot but managed to have a good working relationship. She was one of the biggest international backers of perestroika, not exactly something that would endear many a Russian. Gorbachev would also consult Thatcher on a number of domestic issues during the years leading to the collapse of the Soviet Union. One anecdote that was often repeated by journalists in India is about a conversation Gorbachev allegedly had with Thatcher. When the Soviet leader asked for some advice on how he could deal with a multi-national, multi-ethnic state, the British prime minister asked him to look no further than his Indian friends, who the Iron Lady believed were doing a very good job of managing diversity.
Tailpiece: As an admirer of the Iron Lady, I personally think it's a disgrace that Britain has decided to not give her a state funeral. In the last 200 years, four prime ministers have been awarded such an honour: Wellington, Palmerston, Gladstone and Churchill. Given her role in transforming Britain, Margaret Thatcher definitely ranks right up there with the other great leaders and deserves the same honours.
All rights reserved by Rossiyskaya Gazeta.