Business giants look to Russia for new business opportunities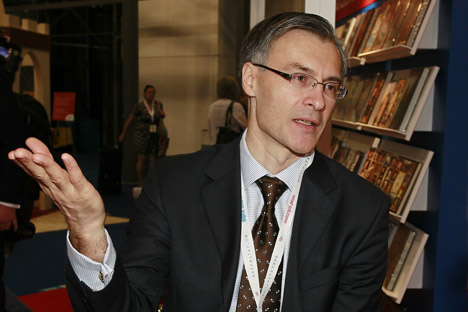 Arkady Vitrouk, former general director of ABC-Atticus. is now Director of Kindle Content for Amazon in Russia Source: Valeriy Levitin/Ria Novosti
This week was a particularly positive one for the Russian online sector. After the launch of the Russian Ebay website, speculations concerning the arrival of Amazon on the market spread. Meanwhile, a Russian robot makes wonders in Hong Kong
After the launch of the Russian version of Ebay earlier in April, online retail giant Amazon might also be coming to Russia.
Last Friday Techcrunch quoted a Russian Forbes report, according to which "the company has opened its first office in the country, headed by Arkady Vitrouk, former general director of ABC-Atticus, a publishing group owned by media baron Alexander Mamut."
Forbes' report was based on anonymous sources, but Techcrunch provided additional facts to backi it up. According to his LinkedIn profile, Vitrouk is currently employed as a Director of Kindle Content for Amazon in Russia.
Amazon is also looking for new managers to work with its Russian customers. "Amazon is hiring for at least three other positions for Russia specifically for its Kindle business and the sourcing of local content: a senior product manager for Kindle content pricing, and a principal for content acquisition for Kindle Russia, and another content acquisition manager," Techcrunch points out.
Ebay and Amazon seem to have caught the right trend. The Russian economy is rapidly embracing the Internet. According to official statistics provided by Russian search engine Yandex, online advertising brought to the company $899.2 million (28.1 billion rubles) in 2012.
Comparing the figure to the profit made by state-owned TV station Channel One in televised ads, one could say that it was a very good year for Yandex.
The Wall Street Journal talked to a few experts about it. Acconding to Otkritie's Alexander Vengranovich, the main difference between the two companies is in the type of advertisers they cater to.
While Channel One works with a small group of major advertisers, Yandex's audience is small- and medium-size businesses. Competition between the two companies, however, remains out of the question.
Channel One spokeswoman Larisa Krymova was quoted saying: "The rest, about 90 percent, Yandex makes on contextual advertising - and we are happy for their achievements because completely new advertisers are being attracted, the kind that would never come to the advertising market otherwise, which positively impacts market growth."
Meanwhile Yandex spokesman Ochir Mandzhikov said that Yandex had no ambition of beating Channel One and becoming Russia's No. 1 form of media in terms of advertising.
While Ebay and Amazon seem to have made a big step towards Russia, the Engadget team had to go all the way to China for the Hong Kong Electronics Fair to become a little closer to the Russian market.
During the event the company's attention was captured by the Synergy Swan, a 14kg machine by Russian-based R.BOT (or Quanzhou Future Robot Technology in China) which works on Android.
It can play videos and interact vocally with the users. The price? "You can nab a Synergy Swan for a surprisingly affordable $450, and there's also a smaller but stationary Synergy Mime for just $250," Engadget reported. Would you buy one for youself?


Previous post: The Russian Hitchiker's Guide to the news galaxy: Of Space and Stars
All rights reserved by Rossiyskaya Gazeta.